Macclesfield: Hurdsfield takeaway Achaari wins Takeaway of the Year award
A Macclesfield takeaway has won an award as one of the best in the North of England.
Achaari Takeaway, situated on 42 Hurdsfield Road, has won an award for the Best Takeaway of the Year in the North West, at the Asian Takeaway and Restaurant Awards.
The Macc eatery, which claims to offer 'India's finest cuisine', beat out hundreds of takeaways to win the award.
It is a remarkable achievement for the new Macclesfield business, which was founded in 2019.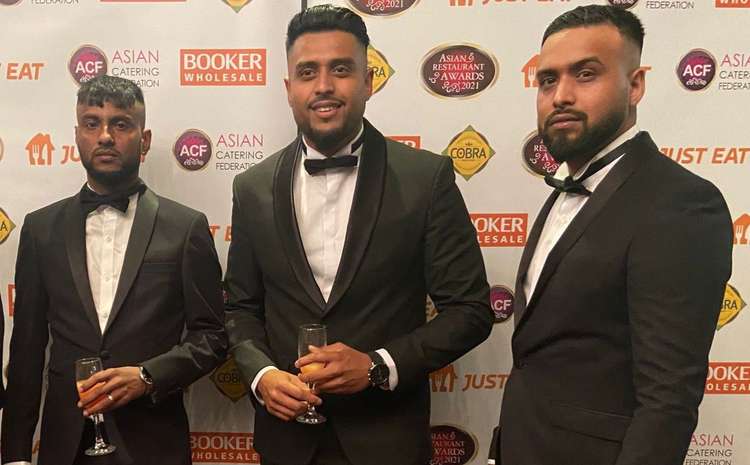 Chef Tufayel Hussain (left), Mohammed Nazrul Hussain (centre), Manager Shaid 'Sid' Hussain (right) were big players in earning the award. Click the video above to see the moment Achaari became crowned the Best Takeaway in the North West.
Co-investor and Visionary Business Leader Mohammed Nazrul Hussain (38) was delighted to exclusively share the secrets of their success to Macclesfield Nub News.
Hussain, and Achaari's ten staff members, picked up the Best Takeaway in the North West award in Manchester last Tuesday.
"Our mission is to use fresh ingredients and a consistent delivery of the highest quality food and service. Our vision is to be Macclesfield's number one takeaway," Mohammed said.
"But now we have a certificate that says we are the north west's number one. Which is a massive achievement.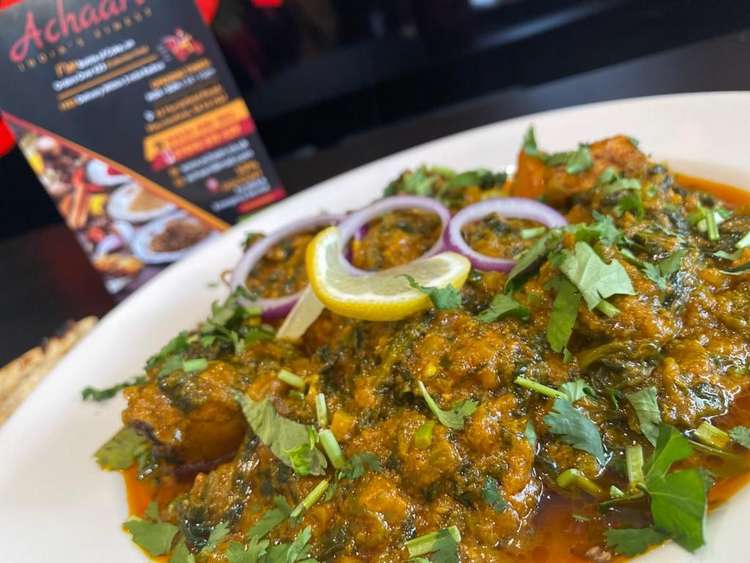 The Hurdsfield takeaway were only shortlisted in early August, and were awarded the accolade by the end of the month. Pictured is Saag Wala. (Image - @achaarigroup1)
"It is something we are really proud of - this is our first award. Being shortlisted was such an achievement for a newcomer but when we were announced as winners we had the loudest scream there. It was phenomenal.
"When we won and came up to collect the award, we were speechless [in the video you can view above], normally we are confident guys.
"Every morning since we've won the award I think wow what an achievement.
"Competing with Manchester, Liverpool, Warrington. There are some big names out there. And we are now the Best Asian Takeaway in the North West."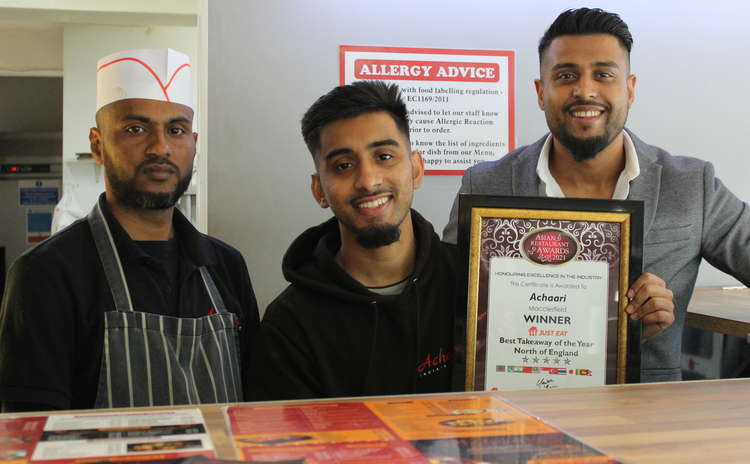 Achaari Takeaway also have the best Food Hygiene Rating possible, thanks to Chef Tufayel. Mohammed's younger brother (centre) and Mohammed (right) are also pictured.
They deliver within a three mile radius of Macclesfield. However, they regularly attract customers across Cheshire East just to try their now award-winning dishes.
They have 164 items to order, including vegetarian and kids options.
Achaari have increased their opening hours despite coronavirus, which was a factor in securing their No. 1 status.
"When lockdown happened, we had to open on Tuesday because of the demand, which was a day when we'd usually be closed," Mohammed added.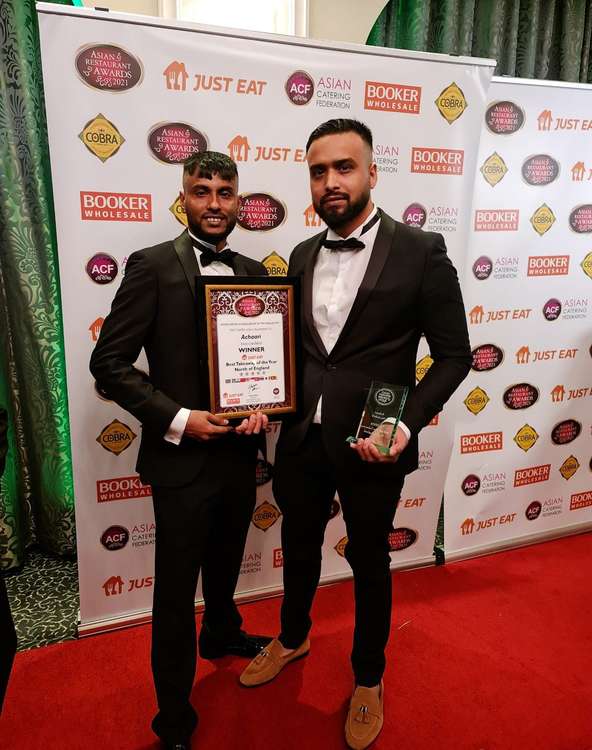 Chef Tufayel and Manager Shaid with their prize at the Asian Restaurant and Takeaway Awards. They thank all their Macclesfield customers for their support.
"Our customers kept coming on a Tuesday as they didn't want to go anywhere else, and as a family business we were able to put that time in there. It is a passion for us.
"We are very passionate about what we do. This helps us set a solid foundation for our business and establish core values such as excellence, integrity, and service.
"We did get also classed as Community Heroes by the award judges, because we donated a lot of food to Macclesfield District General Hospital throughout the pandemic."
Achaari Takeaway also offer a 10% discount for NHS and Emergency Service workers.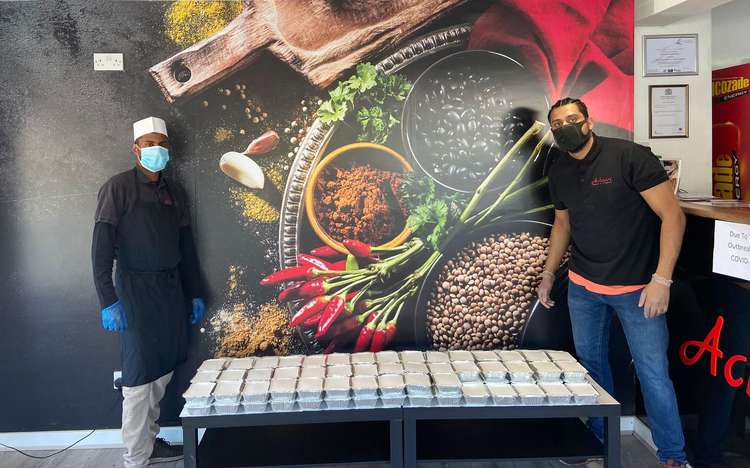 The Macclesfield takeaway donated hundreds of meals to NHS workers at Macclesfield hospital throughout the peak of the pandemic. They now offer a discount for NHS and Emergency Service workers.
Their chef Tufayel Hussain (40), who is Mohammed's brother-in-law, has 17 years of experience across Asian cuisines, which he has brought together to provide a now award-winning menu.
He was an employee of Achaari, before encouraging Mohammed to invest in the business. In a year, it has paid off with this national recognition.
Mohammed had this to say about Achaari's extensive menu:
"While the regular menu has Indian takeaway classics that the British public are used to, we encourage regular customers to try the House Specials and Signature Dishes on the menu," added Mohammed.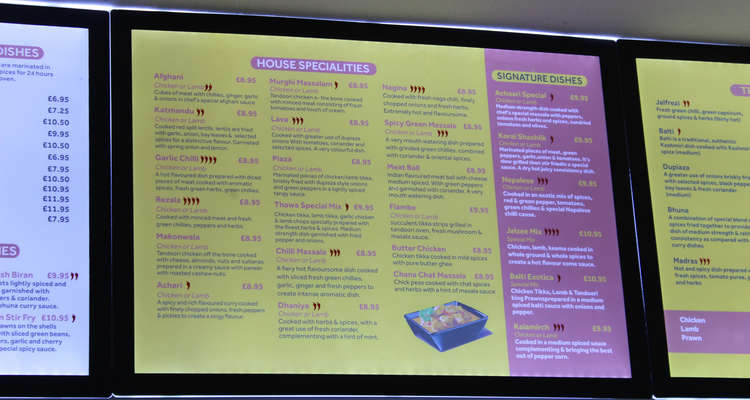 Macclesfield: The Hurdsfield takeaway have a five-star rating on JustEat.
"The Signature Dishes are created by my brother-in-law, and small portions are often given for free to loyal customers. We encourage them to try it for free, as customers often prefer not to take the risk of buying a dish they are not familiar with.
"We now have more customers that are buying the House Specialities and Signature Dishes than the Traditional Dishes. And that is another thing that sets us apart from other takeaways."
Their Signature Dishes include Nepalese, Thai, Stir Fry, and an Achaari Special option which is a chef special masala including peppers, olives and sundried tomatoes.
Achaari, which takes the name from the word 'achar', which is a pickle for some special dishes, caters for a spectrum of spice levels.
Spicy Green Masala is a mouthwatering green chilli dish, combined with coriander and oriental spices. (Image - @achaarigroup1)
In addition to going for next year's award, the Macclesfield takeaway have an ambitious plan for the next few years.
"In the future we want to get the brand out there, and are looking to branch out," proclaimed Mohammed.
"But it is important we keep consistency as we only have one chef, who will train a second chef to cook the Achaari way.
"We have a passion for food and we will always strive to ensure we keep that consistency in every single meal.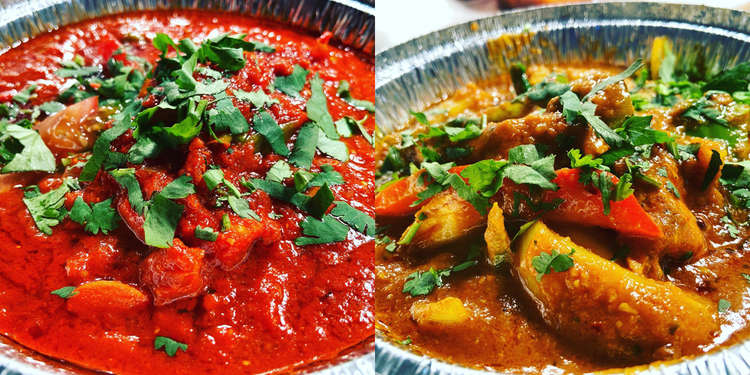 Macclesfield Chef Tufayel Hussain's double award-winning disues include chilli masala and chicken lava.
"We would like to thank all our customers, especially through the pandemic because we wouldn't be where we are today without them."
In addition to the Asian Awards, they have also been nominated for Best Takeaway in the North West at the English Curry Awards.
They'll find out if they have won that second award next month, at the Birmingham NEC Arena.
The passionate business cooks fresh, from at least three hours before opening times.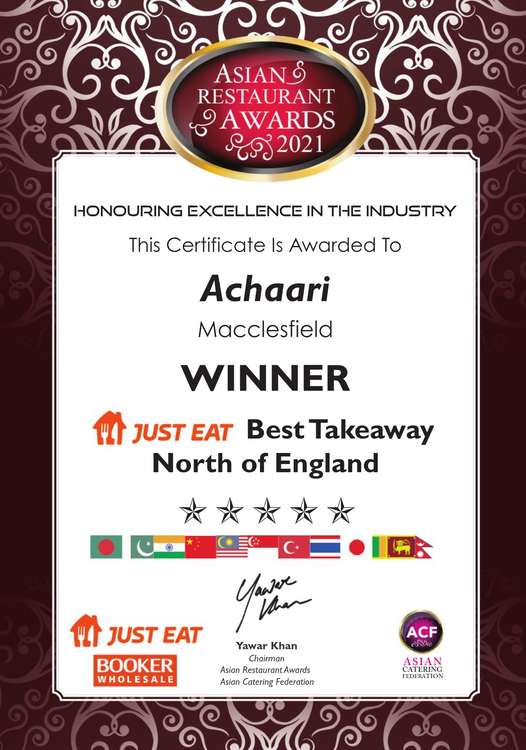 Macclesfield: The Hurdsfield takeaway have a five-star rating on JustEat.
They're open from 5pm to 11pm daily, and from 4:30pm at weekends.
You can order food via their app on Apple or Android Stores. You can also order from their website.
You can also call Achaari on 01625 400 203 or 07898 819 429. Walk-in customers can also order.
The Macclesfield takeaway is on Facebook and Instagram, where they have posted more photos from the award ceremony held in Manchester.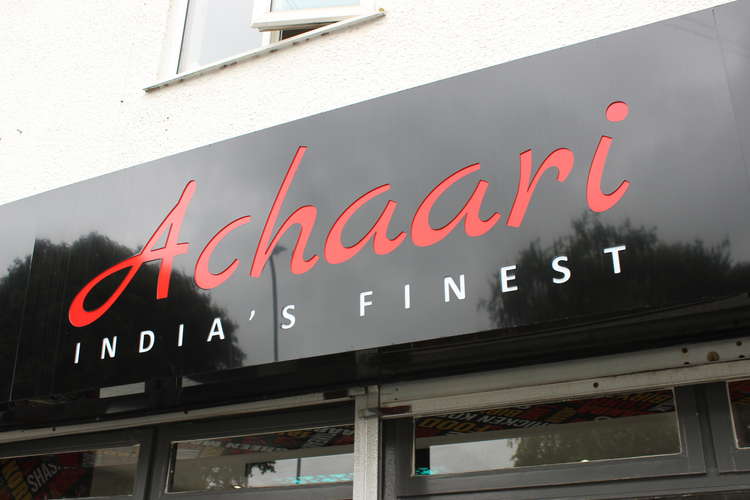 The family business can be contacted via 01625 400 203 or 07898 819 429. You can also order their food online.
Macclesfield: Have you signed up for our Friday weekly newsletter containing each week's top 10 Macclesfield news stories, and one FREE exclusive article?
500 of you have signed up already. Simply enter your email address into the shaded box below.
Free from pop-up ads, or unwanted surveys, Macclesfield Nub News is a quality online newspaper which produces 25-30 stories a week for our town.