Macclesfield bar The Snow Goose marks return with packed events calendar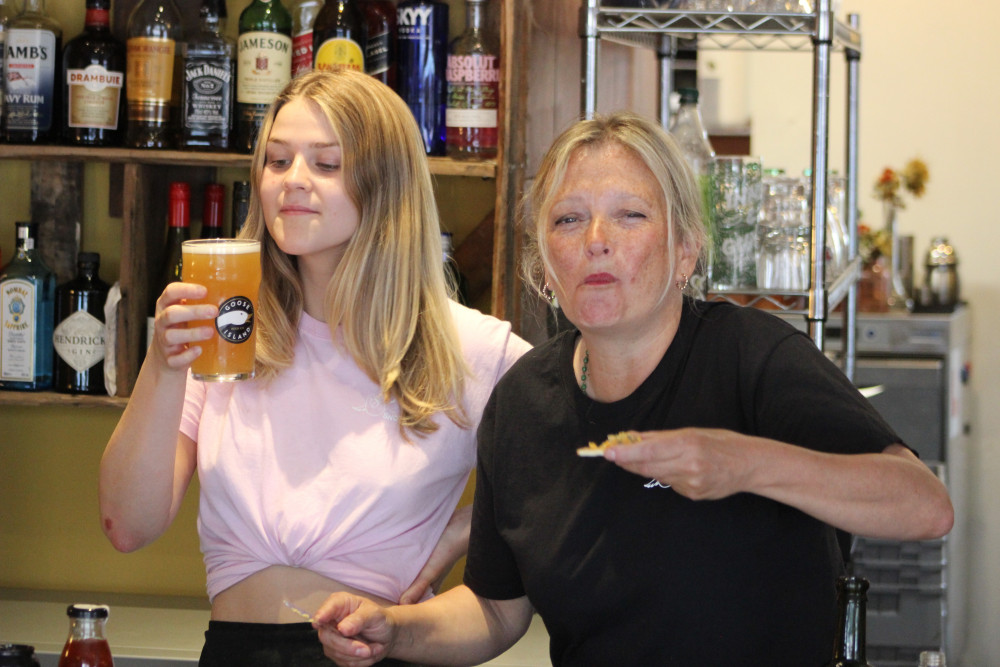 Nelly Ashworth-Ross and Louise Wetton are looking forward to hosting events at the recently-reopened bar The Snow Goose. (Image - Alexander Greensmith / Macclesfield Nub News)
A cosy Macclesfield bar which recently reopened for the first time since 2020, has announced a busy schedule of events.
Sunderland Street venue The Snow Goose serves real ale, light bites and an atmosphere like no other.
The ski-lodge feel of the interior lends to the busiest time of the year for the bar being when the weather is cooler. So The Snow Goose have gone all-in on events, for their first autumn and winter since 2019.
Macclesfield resident Louise Wetton, who has worked at The Snow Goose since 2016, is one of four staff members.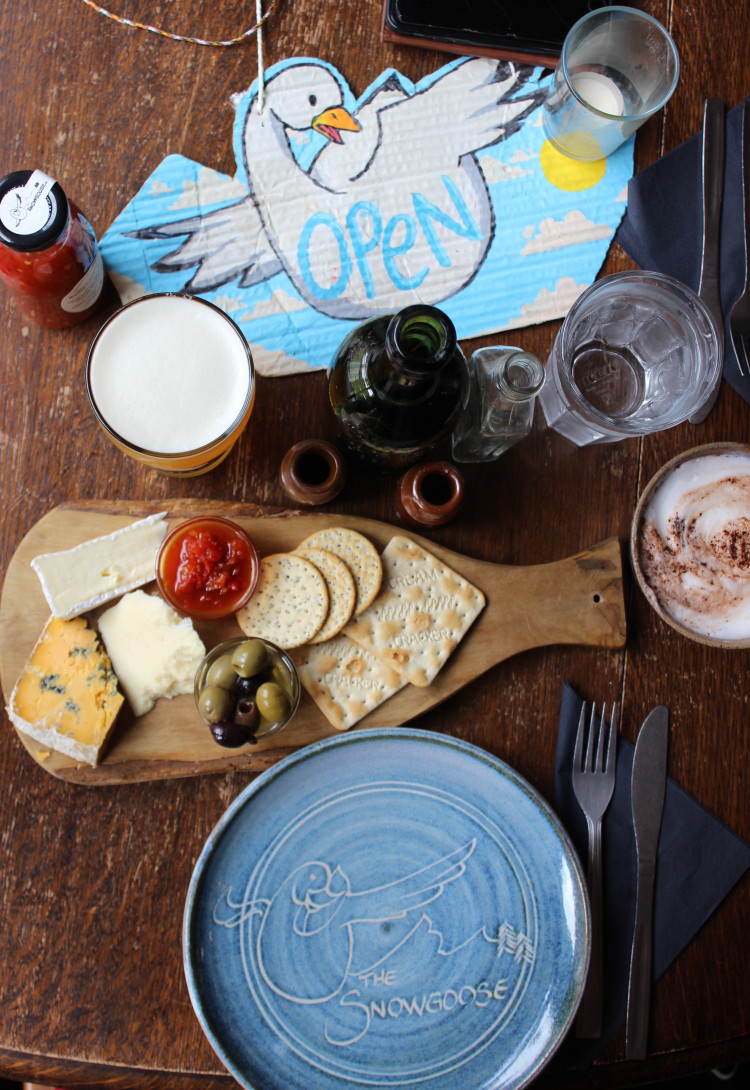 A Goose Island beer [of course] is served with a coffee and cheese board. (Image - Alexander Greensmith / Macclesfield Nub News)
She explained the packed events calendar that will be occurring each week to Macclesfield Nub News.
"On Sunday we have a quiz night which has recently moved to here from another Sunderland Street venue," said Louise.
"It starts at 8pm, and takes place on the ground floor. Teams encouraged.
"We're also doing a vegan supper club on Thursday in the middle of each month, with a big one having just happened on September 15. And will hope to rotate Thursday's with other pop-up events.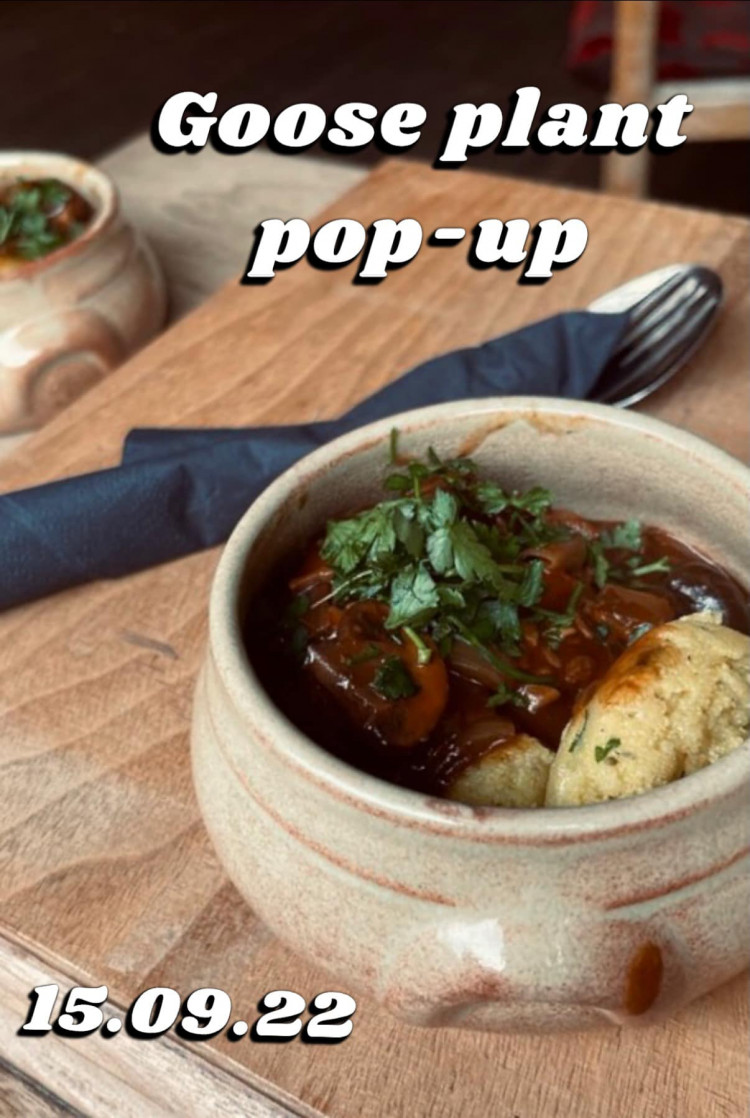 A semi-regular hearty vegan set menu will be served on certain Thursday evenings. (Image - The Snow Goose)
"Or our 'plant pop-up evening', as we also like to call it. It offers two courses, four choices and delicious homemade food for just £12.50pp.
"This is in addition to the bar snacks we offer like cheeseboard, olives and toasties.
"We also have bands on a Friday night, we started off Macclesfield's Yopo and next up are Macclesfield rap duo The Dopes.
"If you're a musician please get in touch, we have microphones and a PA system ready for you to come and play.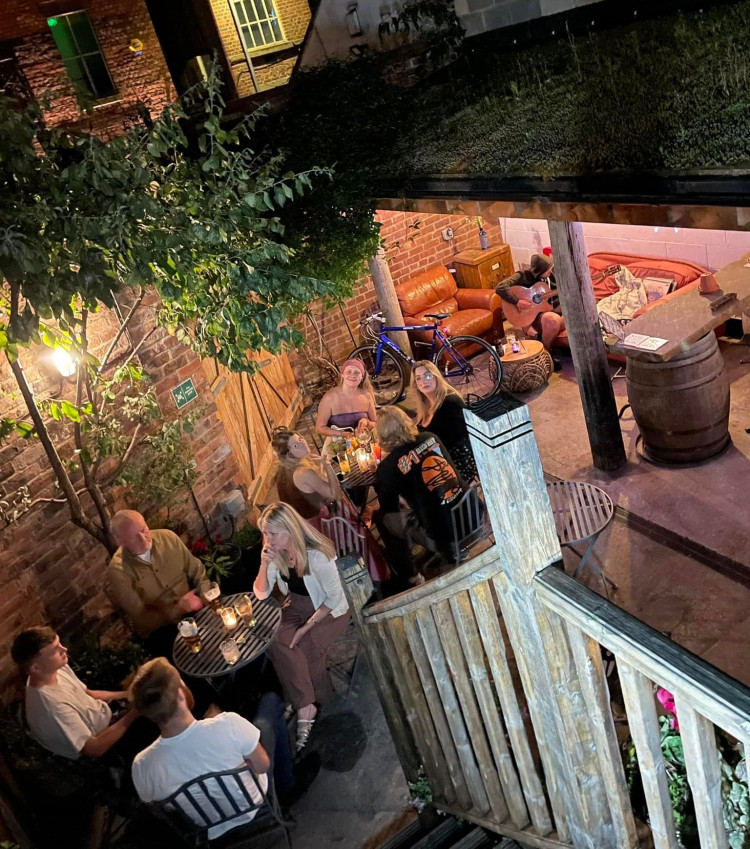 Plenty of plant pots, a living roof and outdoor sofas are highlights of the beer garden. (Image - The Snow Goose)
"On Wednesday night we have our portraiture class, done by our local artist Erika Groeneveld.
"We also have a relationship with Bollington's Happy Place Pizza, who keep coming back for pizza nights.
"Other big seasonal events coming up include an autumn festival and Halloween poetry reading.
"We come in to our own really as a venue when we are hosting."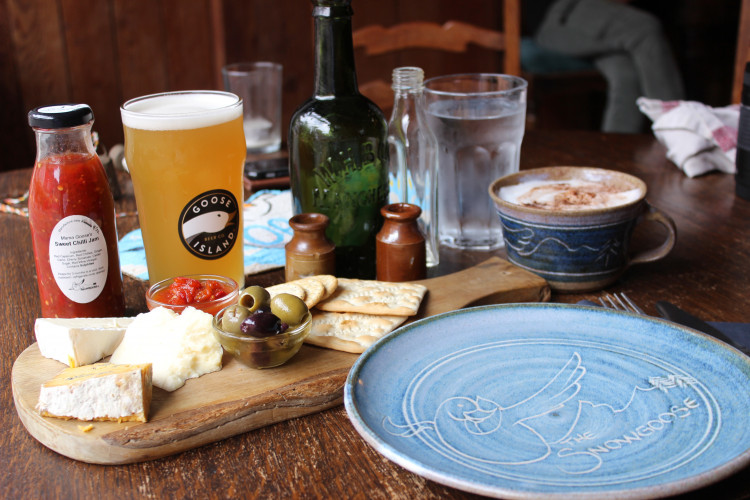 All of their beers are vegan friendly, and two of which are from Macclesfield brewers. (Image - Alexander Greensmith / Macclesfield Nub News)
Macclesfield resident Nelly Ashworth-Ross helps Louise run the bar, and has worked at The Snow Goose since 2018.
"We have a full moon party on September 10, which is an all-vinyl DJ party on the ground floor," she said.
"We have three floors and a cosy beer garden. There's no other place like it in Macc.
"As well as beer and cocktails, we have a fine selection of loose leaf teas and coffee.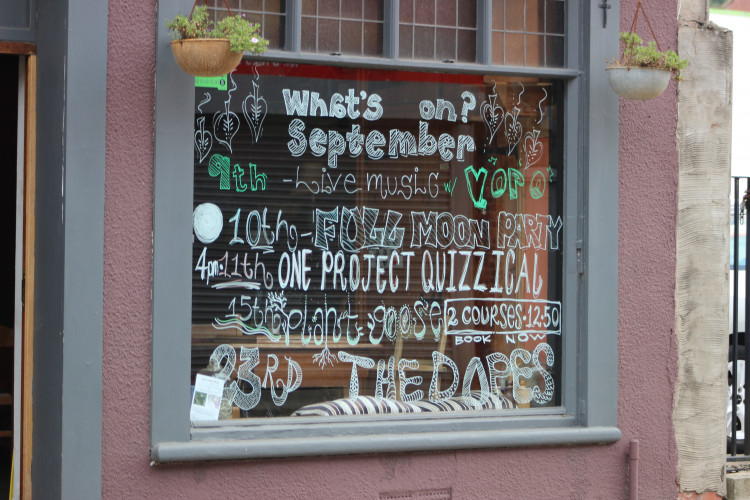 Their events calendar for September also includes Macclesfield comedy rap duo The Dopes. (Image - Alexander Greensmith / Macclesfield Nub News)
"We get our wine from Knowles Green in Bollington as well."
"I like working here at it has got an alternative vibe," added Louise.
"We know most of our customers by name, thanks to the comfortable vibe.
"It is like a community, that's why I came back to work here.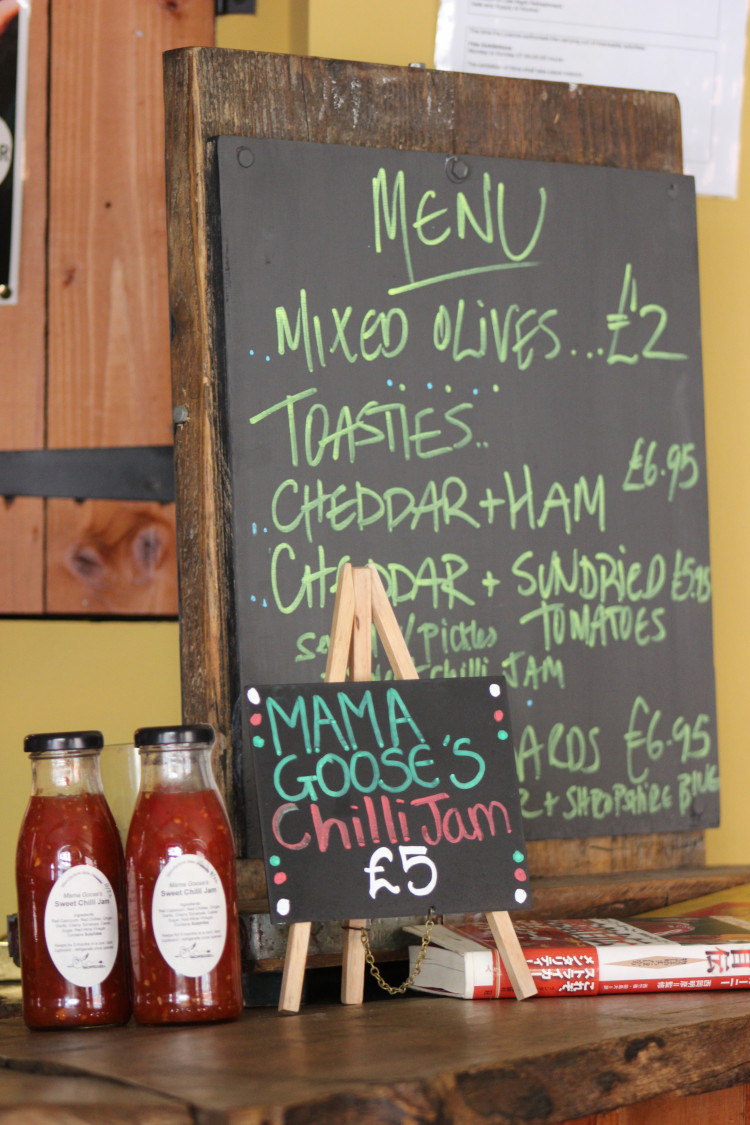 The venue is LGBTQ+ friendly. Children and dogs are also welcome.
"We get a lot of cute first dates as well because they go and sit on the big couches upstairs.
"Kids love it here, there's lots of little trinkets for the to spot. I think we're a very accessible bar for families.
"I should also mention our owner's famous chilli jam which is sold at the bar."
In the future, they hope to add one-pot meals and soups to their menu.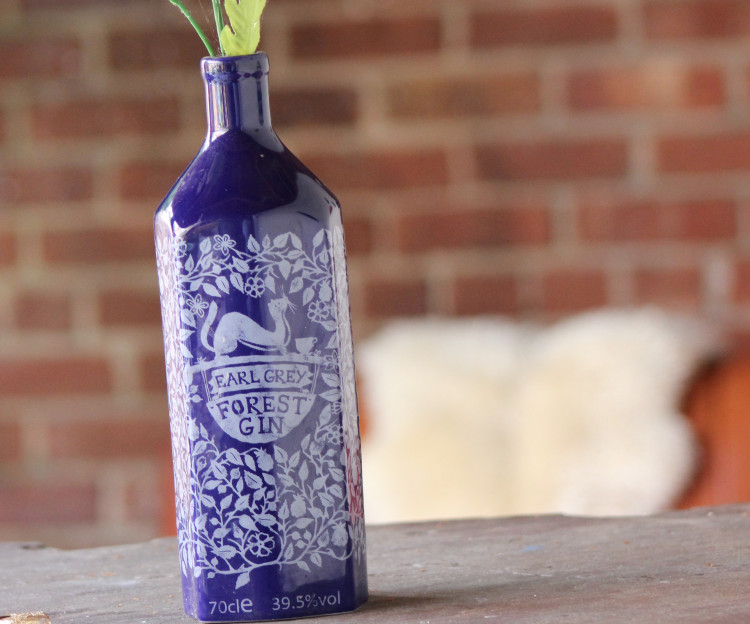 Macclesfield brands served at The Snow Goose include Storm Brewery, Wincle Brewery, and Forest Gin. (image - Alexander Greensmith / Macclesfield Nub News)
They also want to do cheese and wine evenings.
The Snow Goose seats 100, and has two open fires. Their source their wood locally.
You can book the bar as a private hire venue as well, by calling 01625 619299.
The Snow Goose is open from Wednesday to Saturday from 12 to 12. Sunday's have a slightly reduced opening hours of 12 to 10.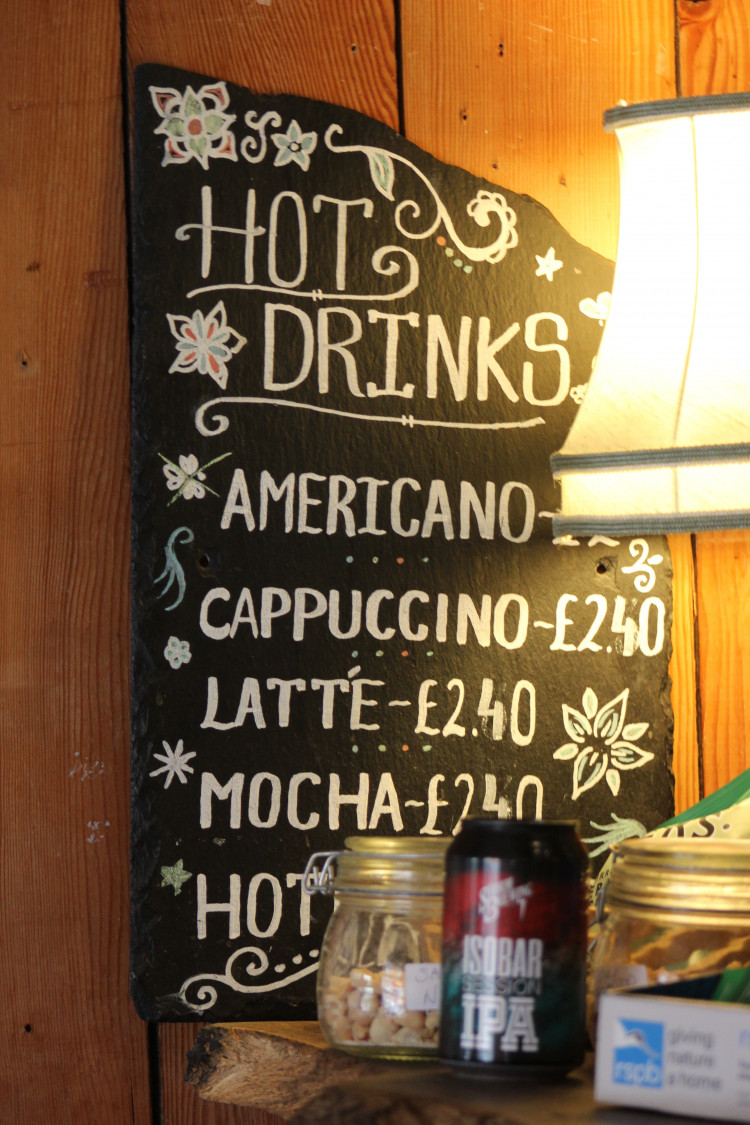 They are open five days a week. (Image - Alexander Greensmith / Macclesfield Nub News)
The Snow Goose first opened in Macclesfield since 2011, and is back after a slumber during the pandemic.
They have the best Food Hygiene rating possible, as of September 2022.
You can follow The Snow Goose on Facebook and Instagram.
The Snow Goose is located on 52-54 Sunderland Street, Macclesfield SK11 6HN.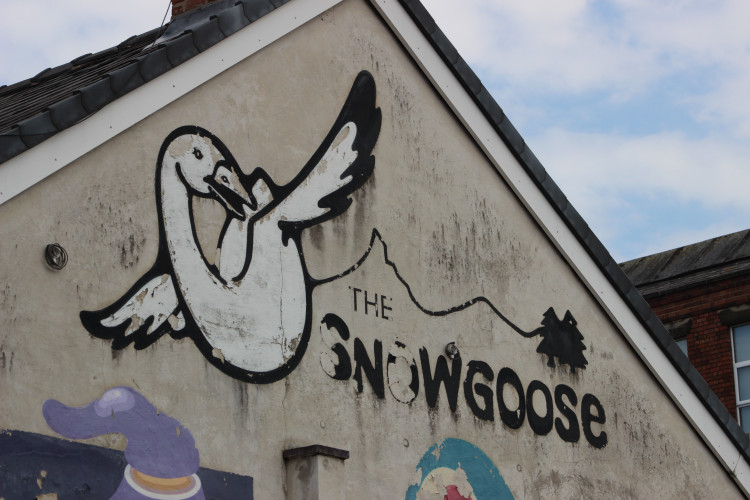 The bar has almost 4000 followers on Facebook. (Image - Alexander Greensmith / Macclesfield Nub News)
Got an event you'd like us to promote in Macclesfield? List it for FREE on our What's On section.
Macclesfield: Have you signed up for our FREE Friday weekly newsletter? It contains each week's top five Macclesfield news stories, and one EXCLUSIVE article?
1400 of you have signed up already. Simply enter your email address on this link.
Free from pop-up ads, or unwanted surveys, Macclesfield Nub News is a quality online newspaper for Macclesfieldand the surrounding area.