Macclesfield Fire Station fights fast fashion while raising thousands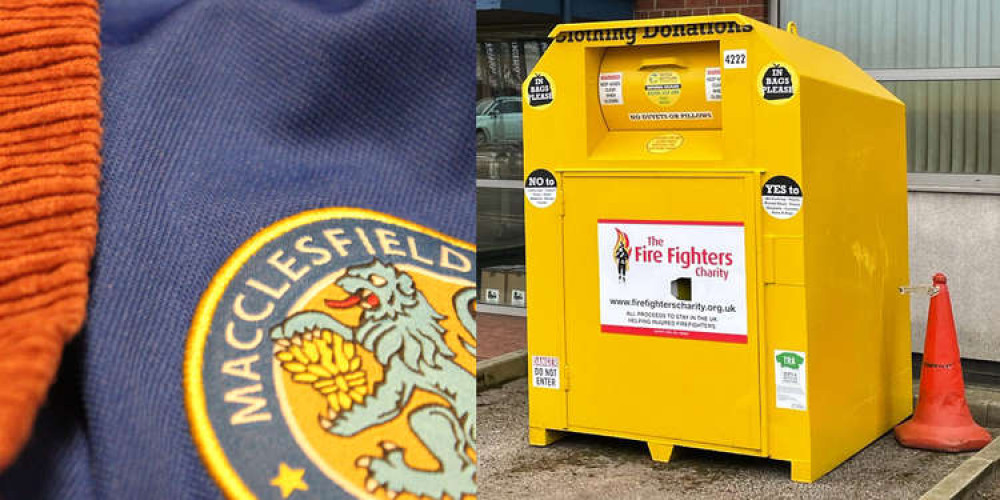 Spare clothes donated to Macclesfield Fire Station has saved it from going to landfill and done wonders for charity.
A clothing bank at Macclesfield Fire Station has helped the environment and raised almost £2,000 for charity.
To date, 10.33 tonnes of clothing has been donated to the clothes bank at Macclesfield Fire Station. They've also raised £1,868 for charity.
Overall, Firefighters in Cheshire have raised a staggering £22,048 for The Fire Fighters Charity thanks to diverting more than 127 tonnes of clothing away from landfill sites.
This also prevents more new clothes being created, as the old clothing finds a new home.
Fast fashion has an impact on our planet. Making clothes uses water, and the fabrics also have an effect on the environment.
An amazing 127.2 tonnes of unwanted clothing has been donated across our county, by both firefighters and members of the public.
All of the clothing, which was most likely destined for landfill, has either been re-sold, re-used or recycled.
Stuart Plaskett, who is Service's Fire Fighter Charity coordinator said: "This is an absolutely fantastic result – not only have we managed to divert more than 125 tonnes of clothing away from landfill sites, helping to protect the environment, but we've also been able to raise a staggering £22,048 for Fire Fighters Charity.
"The Fire Fighters Charity is dedicated to providing essential respite, recuperation and rehabilitation for sick and injured firefighters and their families.
"The charity relies on donations and fundraising, and the coronavirus pandemic has caused a massive reduction in the level of funding they have received – which is why we are committed to doing all that we can to help them."
Kevin Biles, Sales and Recycling manager at The Fire Fighters Charity, said: "I cannot express how grateful we really are for all the clothing that we have received from both the staff at Cheshire Fire and Rescue Service and members of the local community.
"We initially began our clothing recycling scheme in 2009 and since then we've enjoyed over 10 years of continued growth, generating over £4.6million across the UK (up to March 2021), re-diverting over 26,000 tonnes of unwanted clothing away from landfill.
"Our next milestone, nationally is to drive income through clothes recycling over and above £5million and with the fantastic support we receive from Services such as Cheshire Fire and Rescue, we will achieve this.
"Through the money we've received we're able to provide confidential, personalised support to the whole of the fire services community, delivering mental health, physical health and social wellbeing services at our centres, remotely, online and in communities around the UK."
Bollington Fire Station, of Albert Road, raised £99 and have so far collected 0.83 tonnes of clothes, but they have only just recently got their own yellow bin.
Macclesfield Fire Station is located on Chester Road.
You can give them a call on 01625 423222, to find more about the clothes bank.
Macclesfield: Have you signed up for our Friday weekly newsletter containing each week's top 10 Macclesfield news stories, and one FREE exclusive article?
900 of you have signed up already. Simply enter your email address into the shaded box below.
Free from pop-up ads, or unwanted surveys, Macclesfield Nub News is a quality online newspaper which produces 25-30 stories a week for our town.