Macclesfield fundraising stalwart recognised with lifetime achievement award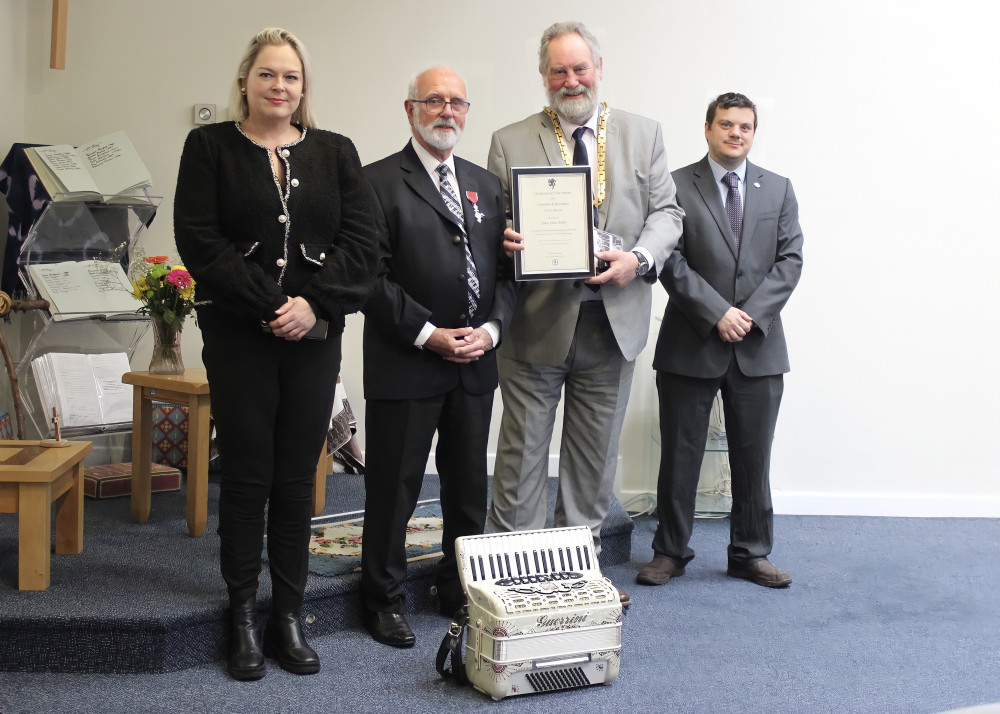 Macclesfield Town Clerk Laura Smith (left), accordionist and fundraising hero John Jones MBE (centre), Macclesfield Mayor David Edwardes ready to present John's awards (centre-right), and Cllr Chris Willcock. (Image - Macclesfield Nub News / Alexander Greensmith)
A man who has raised over £320,000 for charity and £100,000 for East Cheshire Hospice, has been recognised with a special award.
Macclesfield resident John Jones MBE (79), has spent 31 years cheering up patients with his talent on the accordion.
The super-fundraiser was meant to receive a Mayor's Civic Award on April 3, but John was too busy playing his instrument at a large fundraising event.
The retired structural engineer was presented with multiple awards and medals by Macclesfield Mayor Cllr David Edwardes, inside East Cheshire Hospice's Chapel.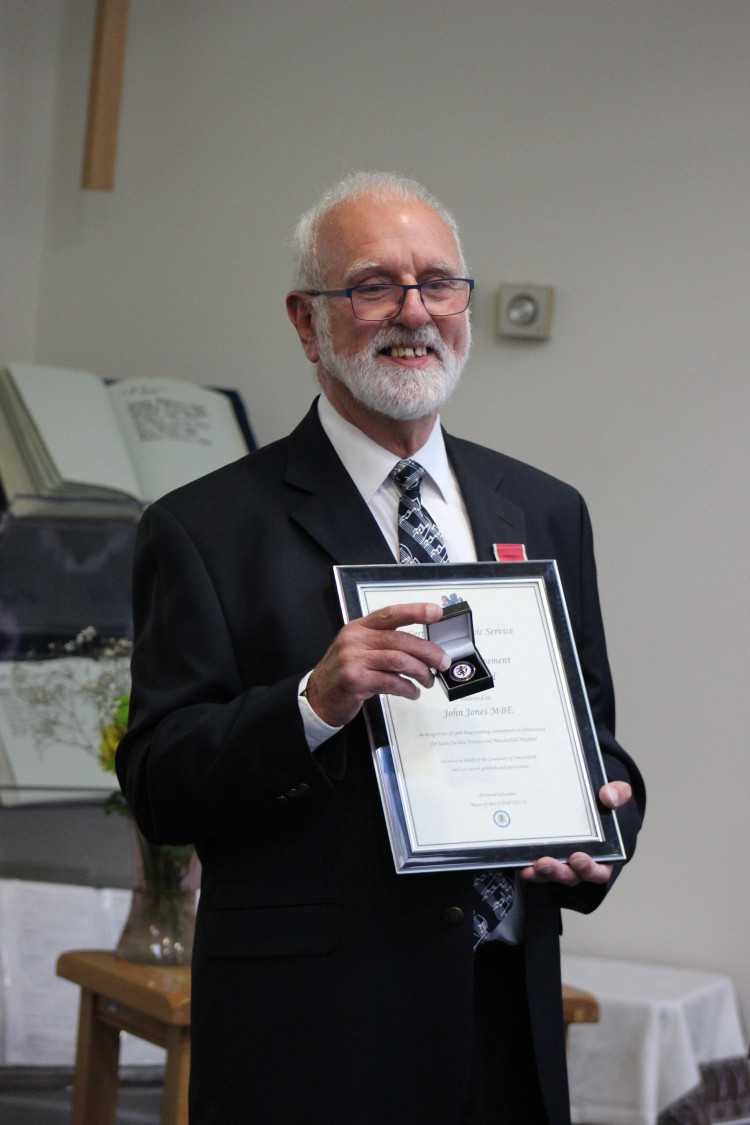 The Macclesfield resident of 30 years is beaming with pride, to recieve his awards for his lifetime achivement in raising money for local charities. (Image - Alexander Greensmith / Macclesfield Nub News)
"I am delighted for Macclesfield Town Council to present this award to John for his lifetime achievement award. It couldn't have gone to a better guy," said the Mayor.
Speaking after receiving his lifetime achievement award, the ex-Manchester City Council worker spoke candidly on his efforts.
"I am very touched, It literally changed my life", said John.
"When I first bought a small accordion in Manchester, I went to a pub [for a drink] and put my accordion down.
"The guy says 'why aren't you playing it', so I began to play it and a crowd of people gathered.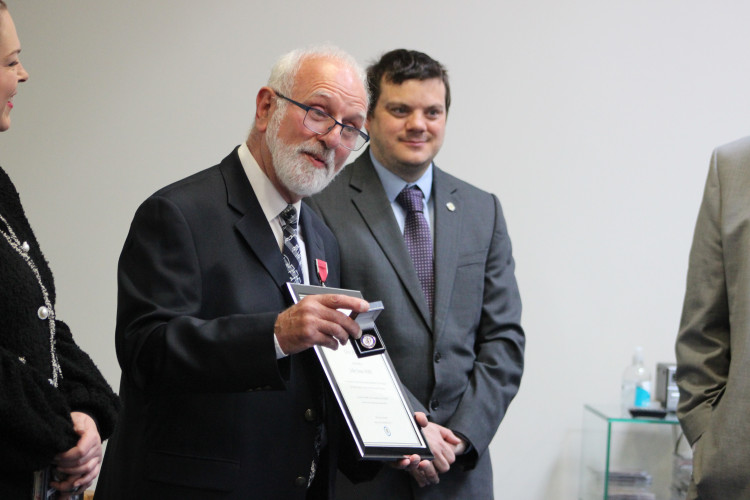 John gave a speech full of humoured and heartful anecdotes. Macclesfield Town Cllr Chris Willcock (right) is the ward councillor which includes East Cheshire Hospice. (Image - Alexander Greensmith / Macclesfield Nub News)
"There was a big fundraising bottle behind the bar for the Scout Appeal for Tameside Hospital.
"About a year later, when I moved to Macclesfield, I saw a sign for the Scout Appeal for Macclesfield Hospital. And that's where I got the idea.
"I didn't think I'd still be doing it 31 years later, but it is just so enjoyable. I've made so many friends."
"I've made so many friends. I was recently playing in Buxton, and a woman came up to me who has been divorced, depressed and had cancer.
"She said he playing really cheered her up. It turned out that she just happened to be up here on holiday from London and we've kept in contact ever since, and I'm going to play for her again."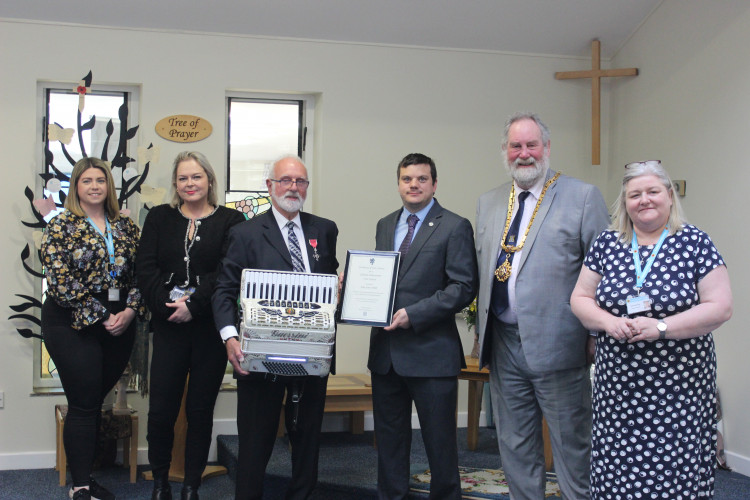 Carley (left) and Karyn (right) of East Cheshire Hospice are delighted to have John playing the halls of their site once again. (Image - Macclesfield Nub News / Alexander Greensmith)
COVID-19 restrictions recently being lifted means John can play in the Hospice's corridors again, at their site on Macclesfield's Millbank Drive.
John, who sadly lost his wife June towards the start of the pandemic, has also recently fundraised thousands for Macclesfield Hospital, where his wife was cared for.
You may also recognised the ex-civil servant from playing music as Macclesfield events, or playing in local towns outside of Macclesfield as well.
His selfless, passionate, and hard work proves the power of music.
The Manchester City fan received an MBE in 2012, presented by Princess Anne.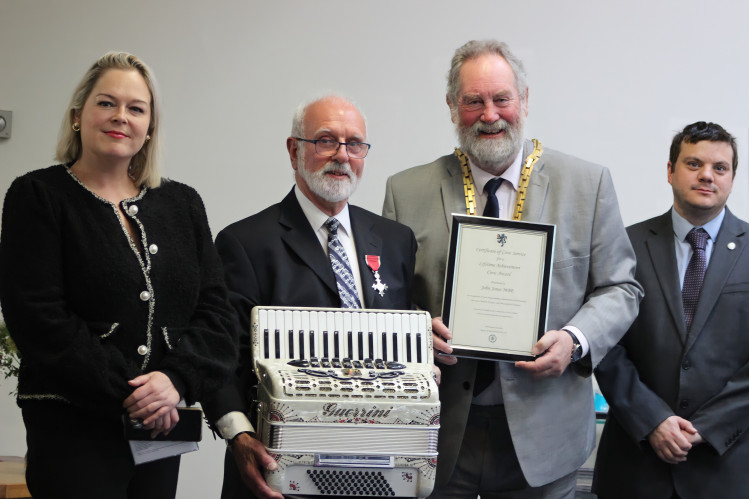 John recieved an MBE a decade ago. (Image - Alexander Greensmith / Macclesfield Nub News)
You too can donate to East Cheshire Hospice here.
As well as hitting six figures for East Cheshire Hospice, he also recently passed the £100,000 milestone raising money for Macclesfield Hospital on Victoria Road.
John may never know the true extent of the amount of joy he has provided to so many families, at the end of their lives or illness, but one thing is for sure, that his achievements will never be forgotten.
Macclesfield: Have you signed up for our FREE Friday weekly newsletter? It contains each week's top 10 Macclesfield news stories, and one EXCLUSIVE article?
1200 of you have signed up already. Simply enter your email address in the shaded box below or on this link.
Free from pop-up ads, or unwanted surveys, Macclesfield Nub News is a quality online newspaper for our town.