Macclesfield: Weston burger joint is runaway success with fresh take on fast food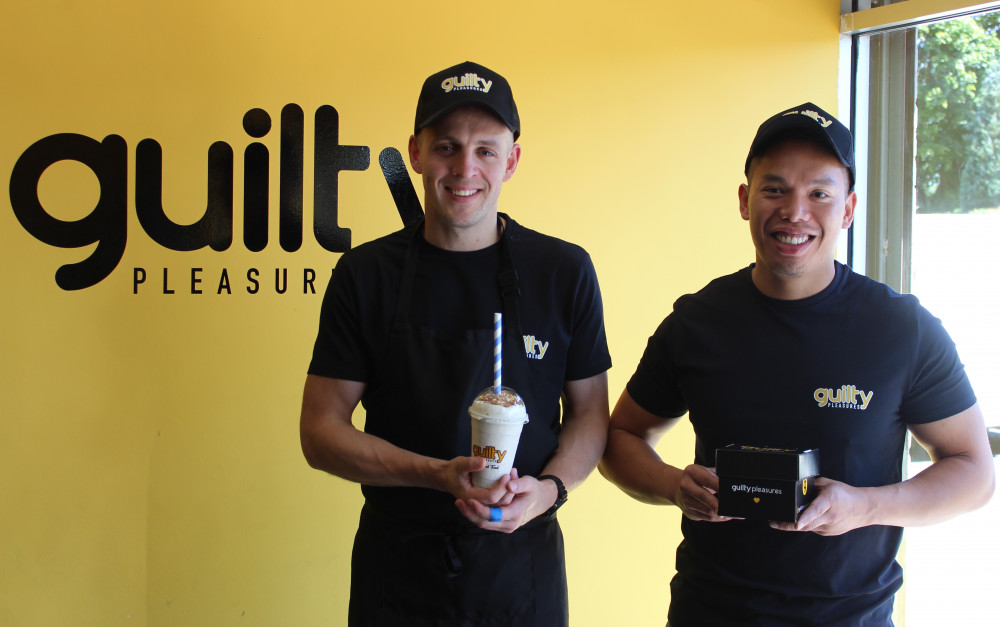 Director Rick Vo (right) and Chef Adam Sabeh (left) started their business Guilty Pleasures LGF on Weston Square last year, and have already expanded to a second location. (Image - Alexander Greensmith / Macclesfield Nub News)
A takeaway on the Weston Estate will celebrate their one year anniversary next month.
Guilty Pleasures LGF - which stands for ''Love Good Food' ' - were founded on a mission to make a takeaway feel extra special.
Meat lovers, vegans, veggies are all catered for with fresh burgers from a world-influenced menu.
And the cost of living crisis hasn't caused this Macclesfield eatery to compromise on quality, as they were started with the philosophy to use fresh ingredients instead of frozen, to bring a bit of a fresher twist to fast food, while still keeping the guilty nature of ordering a greasy burger.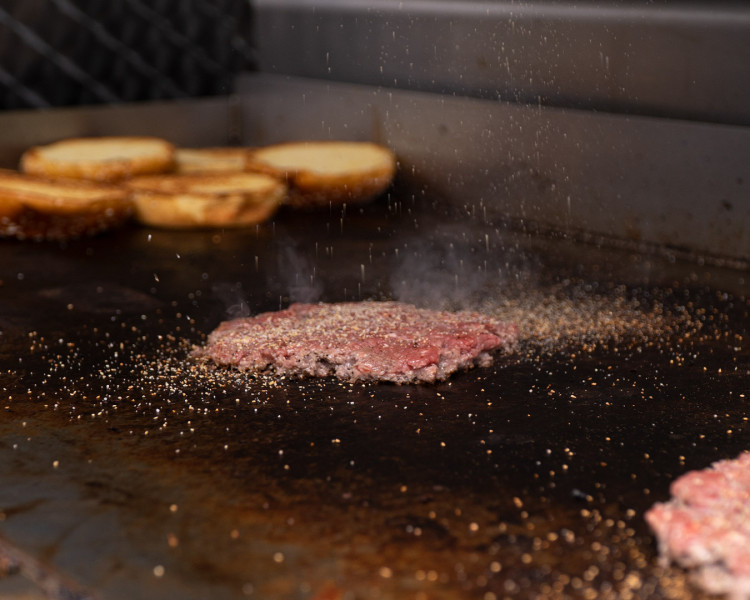 Many of their burgers are smashed mince meat, press with a steak press in a process called the Maillard effect, a caramelisation which breaks down and browns the crust on the meat, locking in a juice with an intense flavour, seasoning and a crispy texture. (Image - Guilty Pleasures Love Good Food Macclesfield)
Adam Sabeh and Rick Vo are the driving force behind the business, which employs 13.
Coming from Lebanese and Vietnamese backgrounds, it was a no-brainer for the boys to bring a global flavour to their menu.
"We're all about fresh food. Everything is made to order," said Rick.
"Coming from different ethnicities and having been all over the place, we picked bits of everything in the menu so everyone has something they want to order.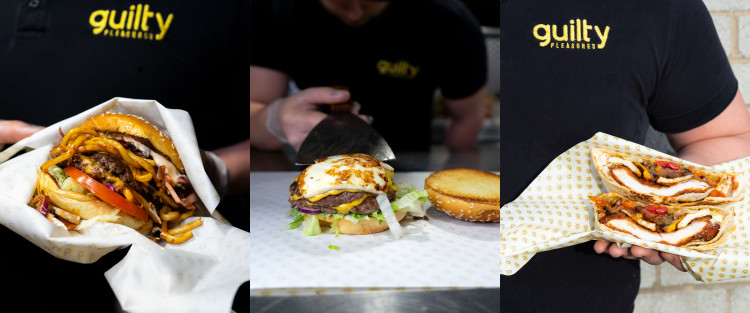 The Orient Burger (left) features udon noodles and sriracha mayo. The Athenian (centre) features halloumi, Medeterranean vegetables and aoili. The Seoul wrap takes influence from South Korea. (Image - Guilty Pleasures Love Good Food Macclesfield)
"We make our own toppings and sauces, whether it is on our burgers or wings. As that is what sets us apart. The sauce is the secret to a good burger for us," said Adam.
"It is the same with the wings, people love them, we run out of wings all the time because we don't buy enough.
"We're very grateful for what we have. We didn't expect it to do as well as it had, especially starting a few months after the last lockdown and we didn't know if we were going to go back into another one or not.
"We started up here in Macclesfield, and we've just opened a second place in Stockport. At the moment we are happy where we are at, but we possibly if we can get the right people on board we might expand to a third one."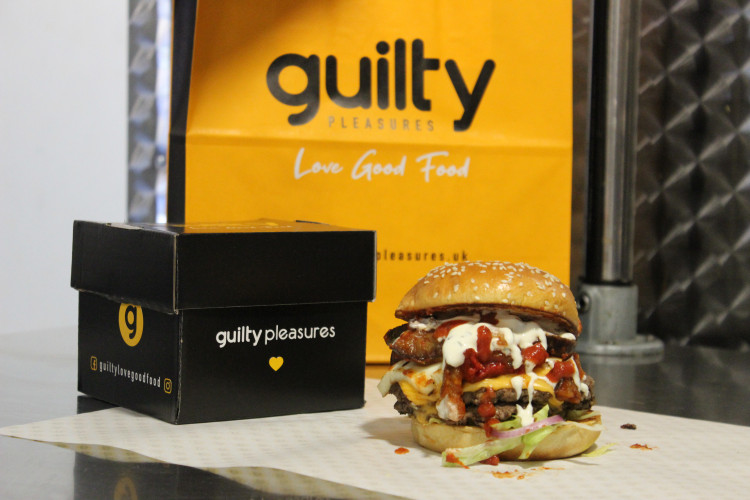 There is also a kids menu, and an option to build your own burger. The Athenian burger is pictured on this image. (Image - Alexander Greensmith / Macclesfield Nub News)
All beef burgers are cooked fresh with 3oz mince smashed patties, whereas the buttermilk marinated chicken burgers are made with whole chicken and a crispy coating.
Burger prices start from £8.00. There are 14 sides, with prices starting from £2.90.
There are three vegan options, 22 milkshakes and five wraps on the menu.
Cuisines covered include Thai with the Bangkok Bad Boy burger, and Korean with the Seoul Korean pepper sauce and Asian slaw.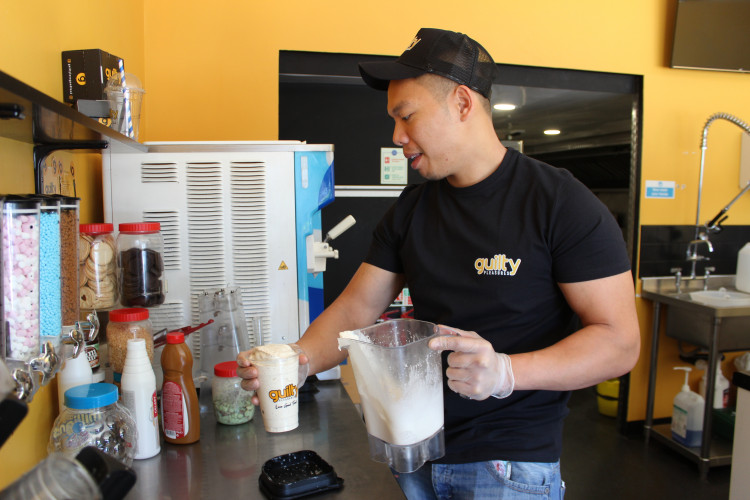 Milkshakes start from £5 with flavours such as Bubblegum Millions with Marshmallows, and a double Biscoff shake. (Image - Alexander Greensmith / Macclesfield Nub News)
"The best-selling burger is the Big Western Burger (not Weston, sadly) which contains two smashed patties containing American Cheese slices, loaded with Crispy Turkey Bacon Rashers, Caramalised onions, sliced gherkin, salad, and homemade tomato sauce and mustard," revealed Rick.
"Everybody seems to thing we named it after the Weston estate, but it was a coincidence," laughed Adam.
Their ingredients are sourced locally, and all of their staff live nearby. Business is booming so much, that eight or nine staff work during a shift.
They initially intended to be delivery only, but with their colourful branding and being situated next to other shops, many come in to collect their meals as well.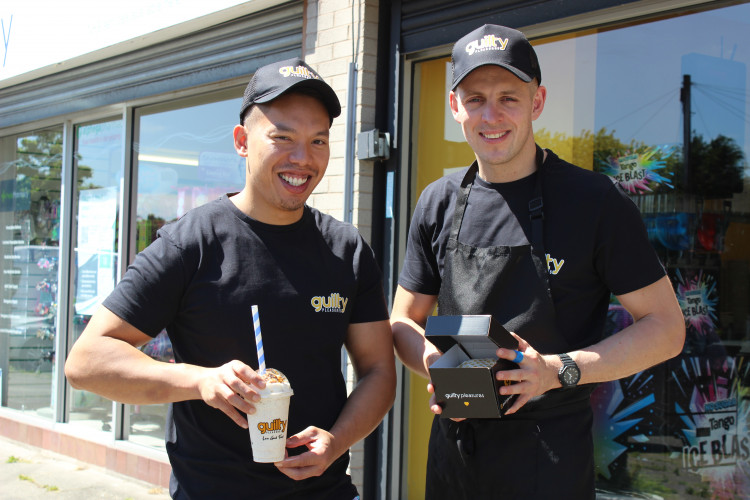 Other milkshakes include Ferrero Rocher and Nutella, along with Kinder Bueno and Banana. (Image - Alexander Greensmith / Macclesfield Nub News)
"We knew each other through mutual friends, we both have the same work ethic and drive," added Rick.
"We came up with the name as everyone is always on a health kick, but we wanted to market ourselves as a guilty treat. It is good food, but not a health kick food. So it is a guilty pleasure, something to look forward to at the end of a day or week.
"My favourite part about working here is the variety people we have that work here. From different ages, ethnic backgrounds, and we use our own delivery driver as well so everyone knows each other and are working towards the same goal. It feels like a big classroom. Everyone here is happy to work together and help out.
"Thank you to everyone in Macclesfield for your support, and if you haven't tried us, we're looking forward to cooking for you soon."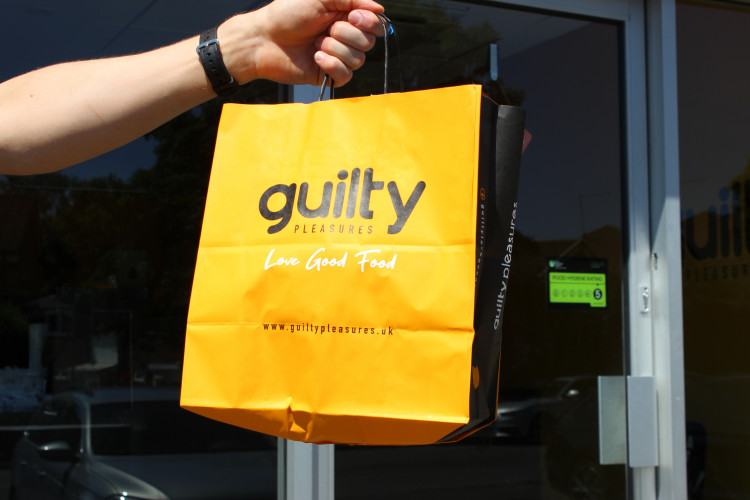 They have the best food hygiene rating possible. (Image - Alexander Greensmith / Macclesfield Nub News)
You can follow the Macclesfield business on Facebook and Instagram.
They are located on 4 Weston Square, Macclesfield, SK11 8SS.
You can order online via their website or call 01625 439 463.
Their opening hours are Sunday to Thursday. 4 - 10pm, Friday & Saturday. 4 - 10.30pm.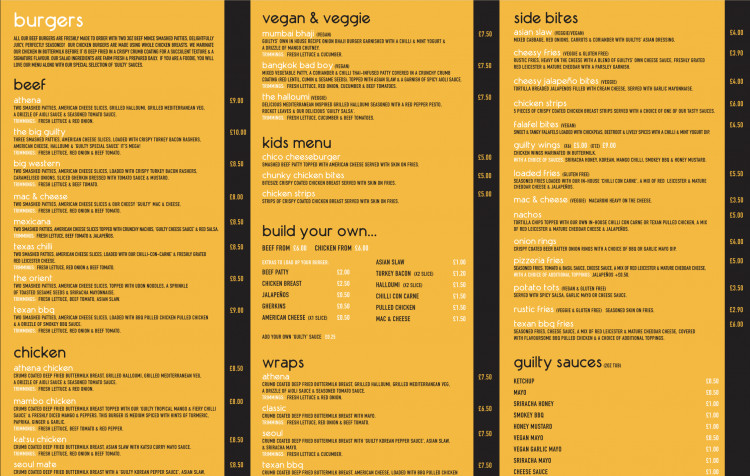 A portion of their menu. Please note: Some burgers and milkshakes are excluded from this menu. (Image - Guilty Pleasures LGF)
Got a business to promote in Macclesfield? Advertise it for FREE on our Local List.
Macclesfield: Have you signed up for our FREE Friday weekly newsletter? It contains each week's top five Macclesfield news stories, and one EXCLUSIVE article?
1400 of you have signed up already. Simply enter your email address on this link.
Free from pop-up ads, or unwanted surveys, Macclesfield Nub News is a quality online newspaper for Macclesfield and the surrounding area.