UP CLOSE: The Macclesfield family behind gin and whisky brand Forest Distillery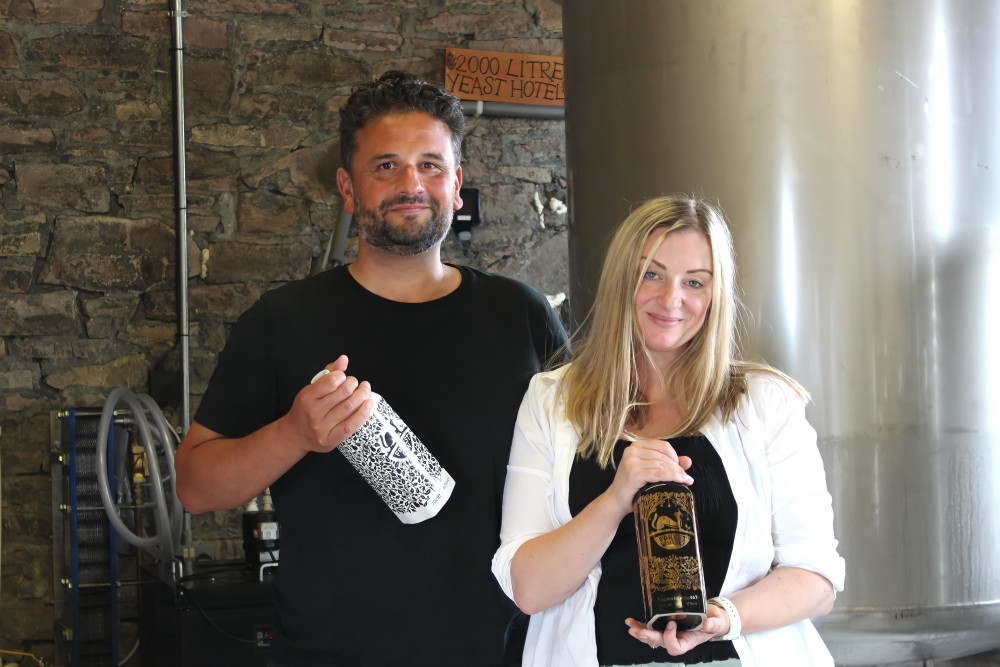 Karl and Lindsay Bond create gin with botanicals from Macclesfield Forest, and recently expanded into whisky. (Image - Alexander Greensmith / Macclesfield Nub News)
Meet the Macclesfield distillers with a world-renowned reputation.
Forest Distillery founders Karl and Lindsay Bond, who currently live in Langley, started brewing their own gin in 2013, and selling it to a few local pubs.
They then took on a pub of their own in 2019 - or more accurately - the long shut The Cat and Fiddle Inn.
In May 2020, they opened a takeaway shop, which forms as the entrance to their business. And one year later, their doors finally opened to the public with their first ever gin and whisky tours, as well as beginning to distill spirits at the site.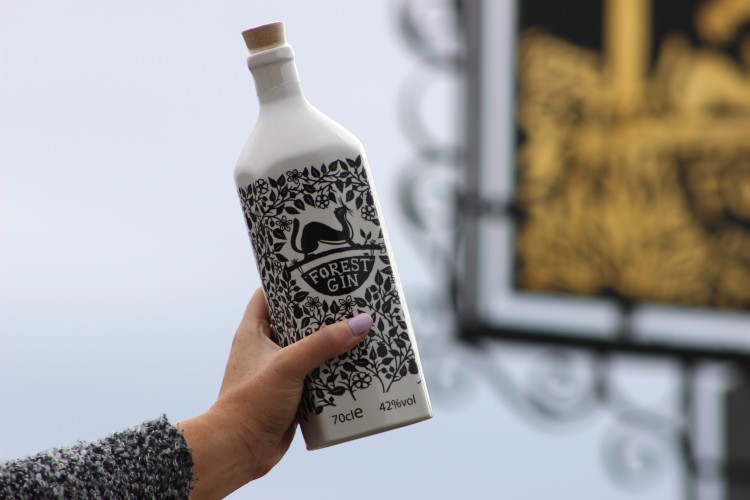 Their site holds a shop, events space, distillery, car park, and outdoor seating. (Image - Alexander Greensmith / Macclesfield Nub News)
Now, business is booming and they hope to revolutionise the whisky industry, just as they rode the gin boom of the mid-to-late 2010s.
"Robinsons brewery owned the pub, they had it closed for five years before we got the keys, and we were living just down the hill at our our gin distillery and farm, making our own gin with botanicals from Macc Forest," recalled Mark.
"And we needed a place to make our new expansion into whisky. So our plan was to keep the outside of this place looking pretty, and use it as a warehouse inside.
"Legally you have to leave whisky barrels somewhere for three years, and this place is perfect for that, so we moved the distillery here as well.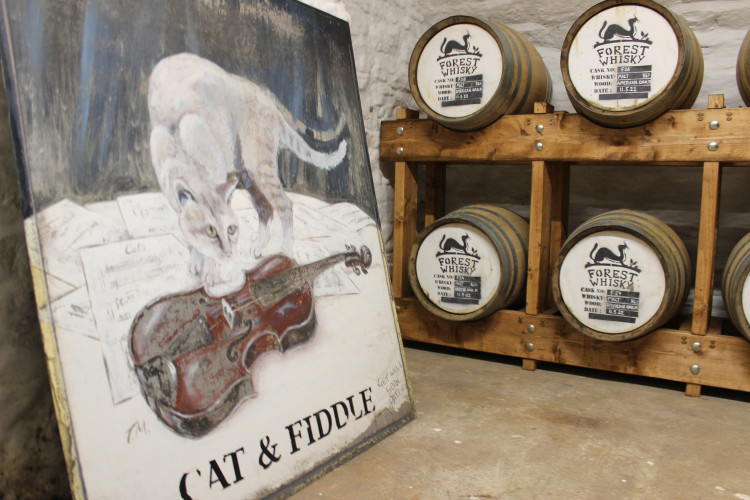 Forest Whisky chilling in the cellar with the old pub sign for the historic Macclesfield pub. (Image - Alexander Greensmith / Macclesfield Nub News)
"But still, even with us moving into whisky, while are the UK's highest distillery, we are probably one of the smallest as well."
Their visitable take-out shop is for the pub's original clientele of bikers, walkers and cyclists, who can still come for a hot drink or a bottle of beer at their outdoor seating area, with unrivvaled country views.
They also sell pre-mixed Forest Gin cocktails in a can.
But the majority of where The Cat and Fiddle pub used to be is now used to host people on Forest Gin's light-hearted gin and whisky tours, which you can book on this link from £25 per person.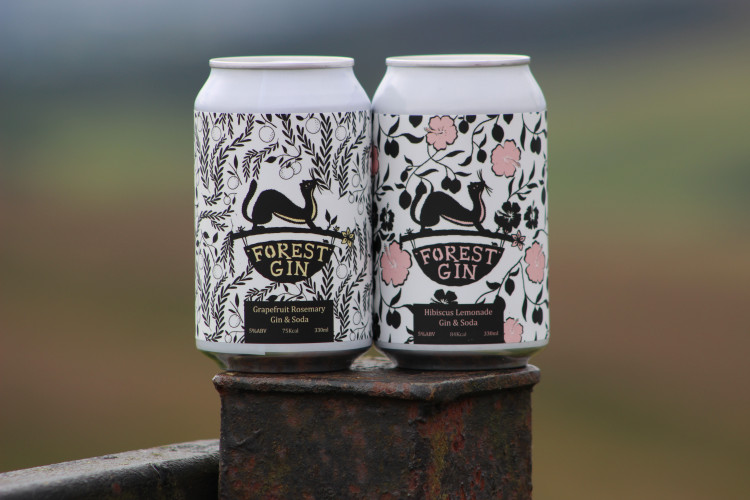 These cans cost £3.50-£4 each. (Image - Alexander Greensmith / Macclesfield Nub News)
The company have zero marketing budget, and their success comes from the power of the premium product.
In particular, their gin has become a worldwide hit. They even recently created an exclusive gin for Avanti Trains.
Their expansion began with famous early lovers of the gin such as Harvey Nichols and Heston Blumenthal.
"We export to Japan, New Zealand, Hong Kong," revealed Karl.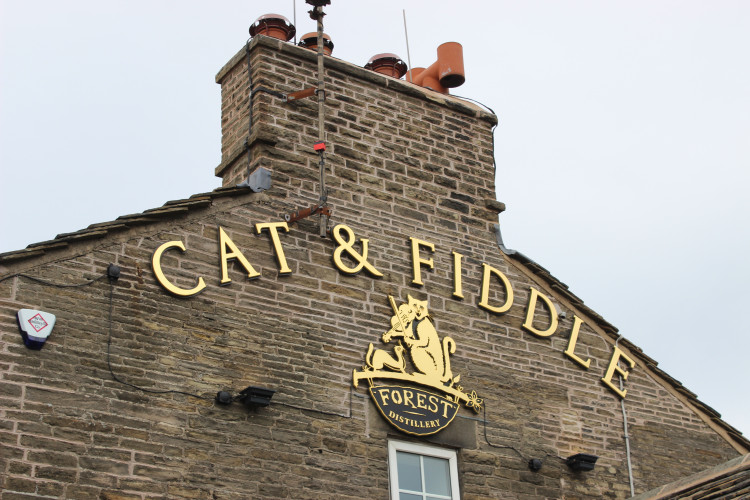 The building was last a pub in December 2014, coincidentally, not long after Karl and Lindsay started making gin just down the road. (Image - Alexander Greensmith / Macclesfield Nub News)
"And we have lots of Japanese tourists who come over and love to enjoy the view, because if they're from Tokyo, they've never seen a sheep or a hills like these.
"We're getting to where we want to be. It is a constant evolving thing. I've lived in Macclesfield all my life, Lindsay is from Salford, but we've never ran a business before let alone a distillery and tourist venue.
"For the perfect gin on the tour here, we serve it with loads of ice, a good measure of gin, grapefruit zest, and a fresh sprig of rosemary with Fever Tree tonic."
"We try and keep everything as low waste and local as we can. But for example, our juniper we have to import from the EU, unlike most of our locally-grown botanicals.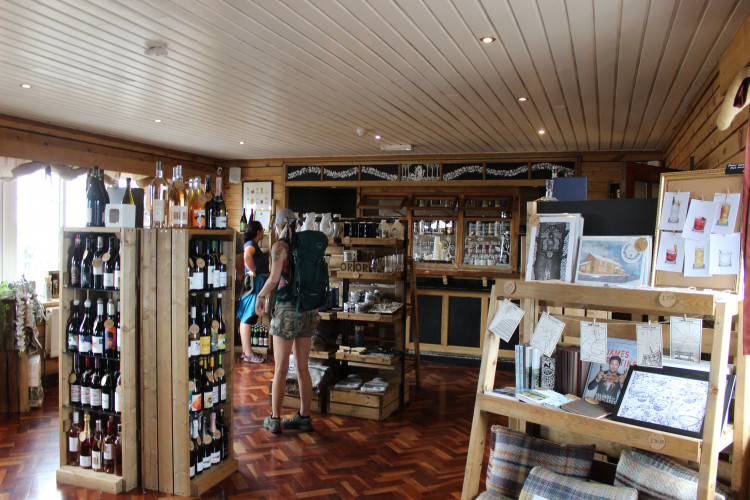 Forest Distillery's shop is open seven days a week. Opening hours at the bottom of this article. (Image - Alexander Greensmith / Macclesfield Nub News)
Their shop stocks a lot of local products inside their store, or just as decor for the tour rooms. Such as SiDa Cider and Wincle Brewery. Their best-selling Forest Gin candles are also made by a Bollington company.
Their tour can also be upgraded to include a Beef and Forest Whisky Pie, cooked by Chestergate business Lord of the Pies.
Artists such as Soulful UK from Bollington and Adam Francis from Greenside also have their prints up in the store.
So while Forest have become a household name, they are still keen to help local businesses, and remain independent at heart.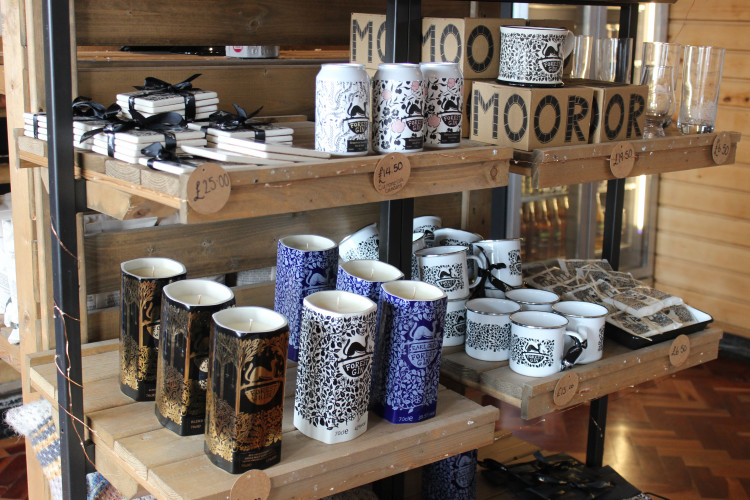 Their London Dry Gin and malt whiskey comes in porcelain bottles hand-crafted in Staffordshire potteries. Bottles often get a new life as merchandise. (Image - Alexander Greensmith / Macclesfield Nub News)
The buy the barley for their whisky in Knutsford, and are the only whisky distillers in the world using Cheshire grains.
"It is important for us to use high quality local ingredients for us because it tastes better," said Lindsay.
"Some fruits you can't always get the full flavour or just the sweetness.
"For example, we use the organic juniper because when you crush it there are more oils in there, it is softer, same with the coriander.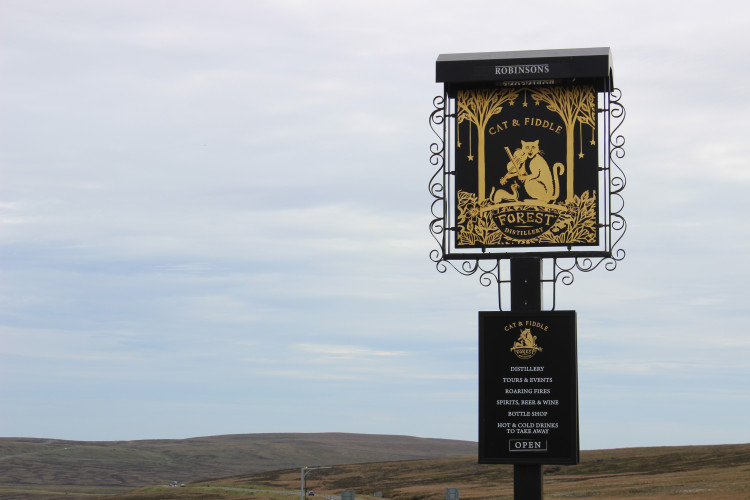 Their gin also joins a rare club of drinks to have been a Double Gold Winner of the San Francisco World Spirits Awards, earning this accolade in 2016. (Image - Alexander Greensmith / Macclesfield Nub News)
"You can tell the difference when you grind something from a supermarket to when you grind down something organic, the smell that hits you in the face is amazing, which translates to more flavour in the gin as well."
Lindsay does most of the brewing in the 17th century stone bar, while Karl deals with other aspects of the business.
"The pandemic was horrible, we had no business during the first lockdown," said Karl.
"We had to switch to making hand sanitisers for shops, hospitals, care homes and The Rossendale Trust.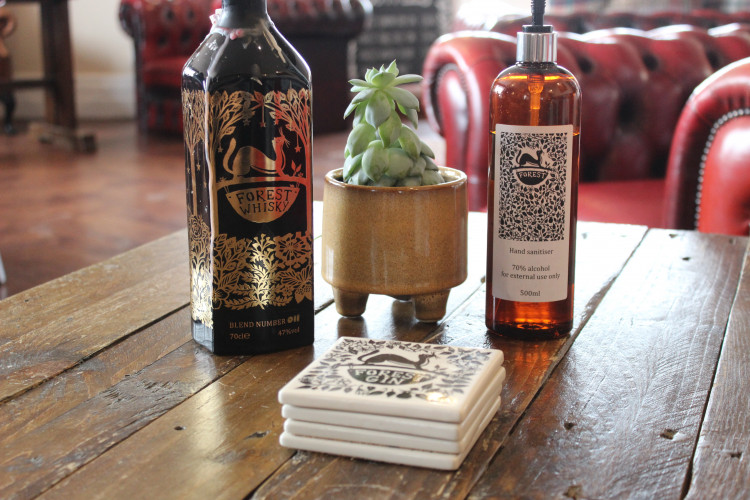 Where you will sit for the spirit tours still very much resembles a pub. (Image - Alexander Greensmith / Macclesfield Nub News)
"We then adapted to home deliveries, and by the end of spring we could open our takeaway shop as a socially distanced service through the window.
"The tours could begin shortly after, and we haven't looked back since.
"We're grateful to have our products stocked in shops, restaurants and bars all over Macclesfield. Thank you everyone in Macclesfield and beyond for your support.
"I used to work in an office doing IT hardware, and I'd never get to see my family. But now my favourite part of the job is that I get to do that, I get to work with my wife, do the schoolrun, having that family time along with the business is great."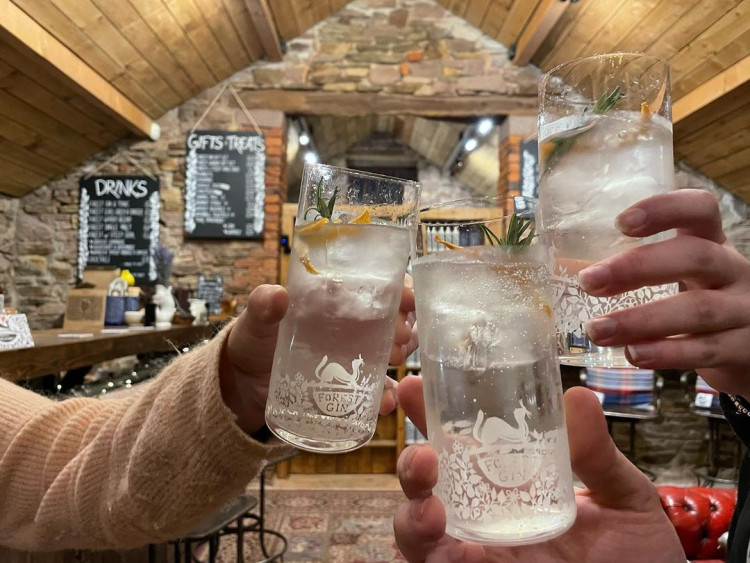 They also have a smaller shop and gin garden in Buxton, at the other end of The Cat and Fiddle Road. (Image - The Forest Distillery)
The next few years should be very exciting for the rural Macclesfield company, as their first big batches of whisky will be ready to (hopefully) revolutionise the industry.
"In the future, we'd like to help shake off the old man image that whisky tends to have got," added Karl.
"We want to try and make it more female-friendly, which is weird because around the world it is, but for some reason in this country it is not viewed as such."
"I think a lot of the snobbery and old boys club image needs to be taken away from whisky," added Lindsay.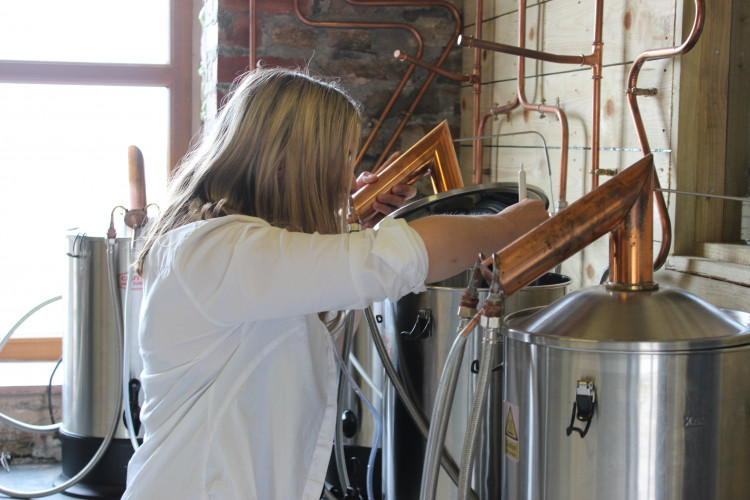 Like Karl, this is Lindsay's first foray into the alcohol industry, having come from a beauty background. (Image - Alexander Greensmith / Macclesfield Nub News)
"For example, some people might look at you and think you are stupid for saying I didn't realise that whisky first comes out clear like vodka. That shocked me when I learned it.
"We all start out not knowing much about whisky when we start distilling it. I'd like to see more women in whisky as well [to make the product more appealing to them.]
"Whisky is also growing hugely in the international markets, where it is already popular with men and women, so if we can make loads of barrels now, we've got a long-term business that is quite a bit bigger."
Forest Distillery is located on The Cat & Fiddle Road, Macclesfield Forest, Macclesfield SK11 0AR.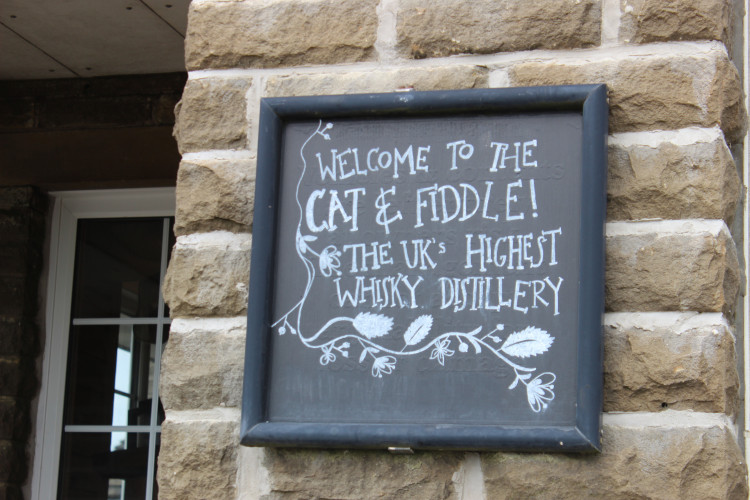 You can also buy their products online.
Their online store has free UK delivery for all orders over £45, be it drinks, or Forest Distillery-branded merchandise.
Follow them on Facebook and Instagram, where they have over 21,000 followers combined.
Their takeaway shop is open seven days a week from 10am to 5pm.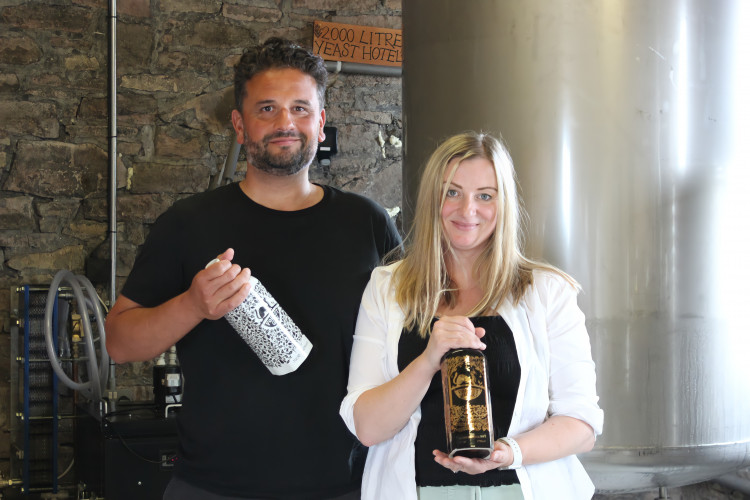 Karl and Lindsay's daughter has even taken a shine to their business. (Image - Alexander Greensmith / Macclesfield Nub News)
You can also buy Macclesfield-designed artwork of their premises here.
See Also: Sustainable Macclesfield water business goes national
Got a business to promote in Macclesfield? Advertise it for FREE on our Local List.
Free from pop-up ads, or unwanted surveys, Macclesfield Nub News is a quality online newspaper for Macclesfield and the surrounding area.