Town Council grant gets new suits for Macclesfield Male Voice Choir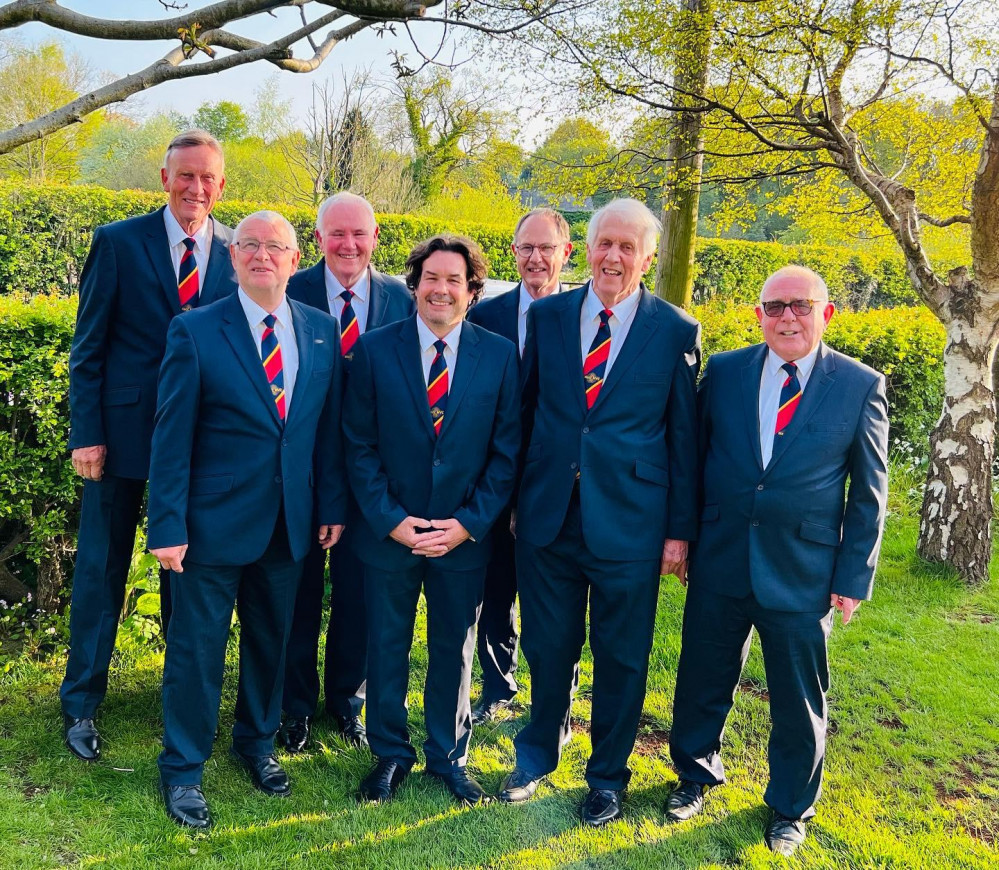 Macclesfield Male Voice Choir with their new suits, which will feature in a performance this weekend. (Image - Macclesfield Male Voice Choir)
The FA Cup final weekend and suits go together hand in hand, and while Macclesfield Male Voice Choir won't be playing any football at Wembley, they will certainly be suited and booted for their concert this Saturday.
In late 2019, Macclesfield Male Voice Choir (now Macc MVC) successfully applied for a grant from the National Lottery to replace their rather dated uniform.
Shortly afterwards Macclesfield Town Council kindly enhanced the total with their own grant.
On receipt of these funds there was a flurry of activity and a new uniform was agreed (lounge suit, blue and white shirts and two ties of distinctive colour).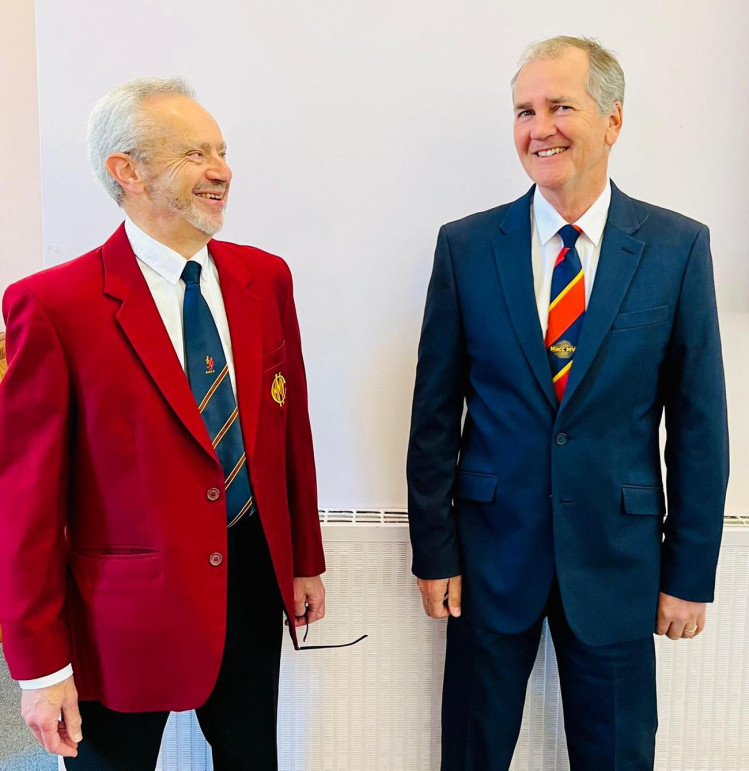 The old outfit (left) and the new one (right). (Image - Macclesfield Male Voice Choir)
Sadly the world then entered the Covid pandemic and the purchase was paused, and so it was late 2021 before the new uniform started to be delivered.
The choir wished to spend as much of the grant locally thereby recognising the support of Macclesfield Town Council and the Choir's own promotion of the town, and so the ties were designed and purchased via a Macclesfield company (Maccravats) who later donated 50 "macclesfield silk" pocket hankies.
In the last few weeks the final new uniforms were delivered, and the old scarlet blazer can finally be retired!
The new outfits will make their debut at a concert in Rainow this weekend.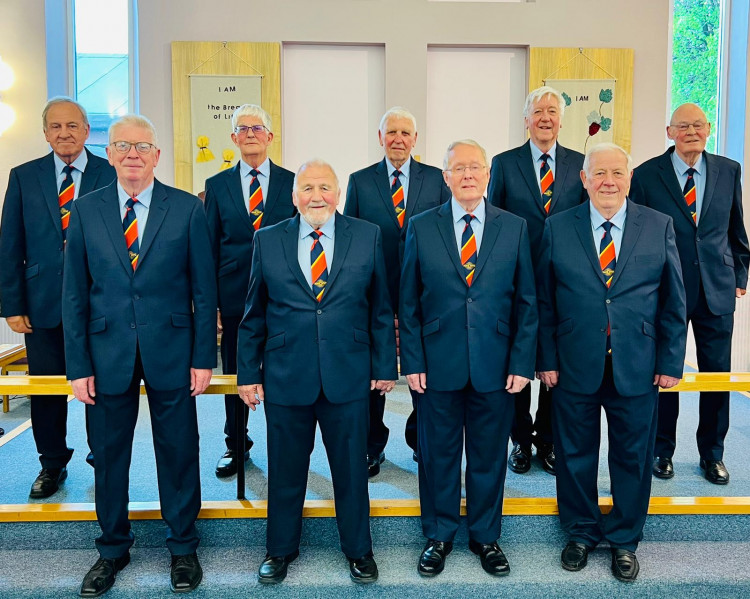 Some of the choirs tenors and barrotones pose with the new suits during a practice at the Broken Cross Methodist Church. (Image - Macclesfield Male Voice Choir)
To celebrate the completion of Rainow Church's refurbishment, Macclesfield Male Voice Choir will grace the place of worship with their warm tones.
Their concert will include Elvis Presley, African hymns, and to a musical version of The Lord's Prayer among other tunes.
The performance will take place on Saturday May 14 at 7:30pm.
For tickets contact: Harry Carlisle on 01625 428331. More info here: Rainow Church
Rainow Church is located on Church Lane, Church Ln, Pedley Hill, Rainow, Macclesfield SK10 5TZ, UK.
Then on Saturday June 11th, MaccMVC will hold its annual Gala concert, which this year is themed as 'A Night at the Opera'. This will be at St. Michaels & All Angels Church, in the town centre. More details available soon, or on the choir's website.
To go with the new fits, the musical and social group would love some new members.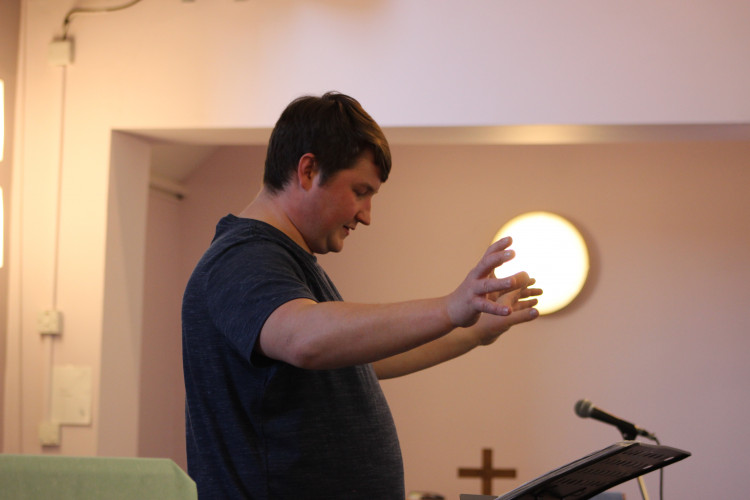 Trained opera singa Robert is conductor and managing director for the Macclesfield Male Voice Choir. (Image - Alexander Greensmith / Macclesfield Nub News)
If you are interested in joining the choir, please contact them on Facebook.
Got an event happening in Macclesfield? Advertise it for FREE on our What's On page.
Macclesfield: Have you signed up for our FREE Friday weekly newsletter? It contains each week's top 10 Macclesfield news stories, and one EXCLUSIVE article?
1300 of you have signed up already. Simply enter your email address in the shaded box below or on this link.
Free from pop-up ads, or unwanted surveys, Macclesfield Nub News is a quality online newspaper which produces 15-20 stories a week for our town.