Macclesfield's 'SAVE DANES MOSS' campaign in open letter to Cllr Sam Corcoran, Leader of Cheshire East Council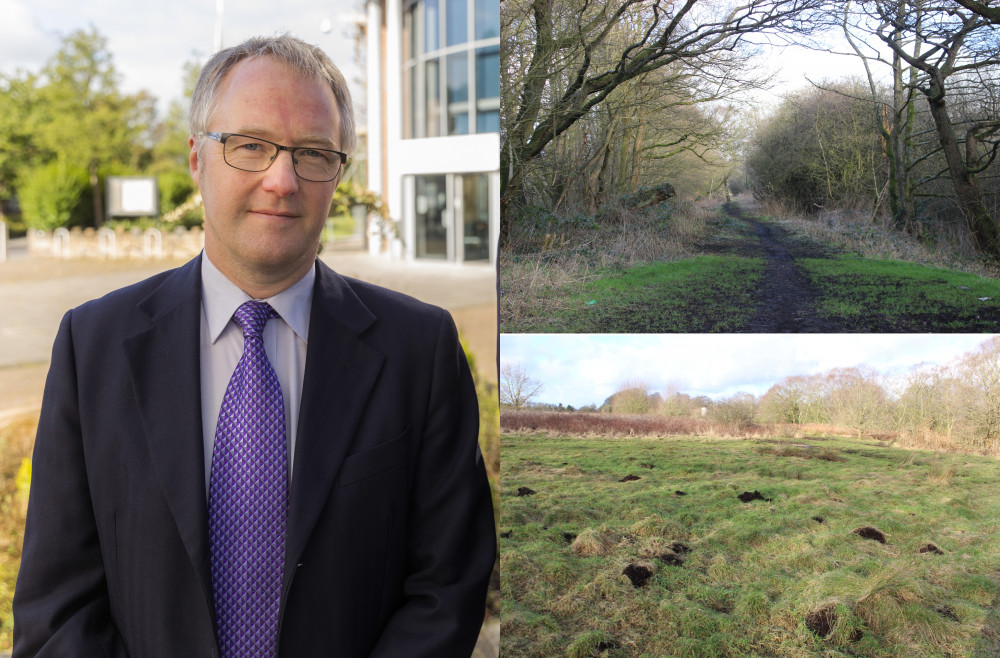 Cheshire East Leader Cllr Sam Corcoran (left) has been sent a letter regarding the plans to build almost 1000 homes on a South Macclesfield site. (Image - Cheshire East Council / Alexander Greensmith)
Dear Councillor Corcoran/To Whom It May Concern,
We the undersigned strenuously urge you to halt your intended plans to convert Danes Moss into a site for 950 new houses. We appreciate that there is a demand for homes nationwide for those people without their own properties. Nevertheless, Cheshire East as a unitary authority is projected to meet its Macclesfield housing target without Danes Moss. This is a significant achievement.
It frees you to take due care of Danes Moss as a rare landscape form called lowland raised bog which has, in parts, been in continuous development for 8,000 years. The resulting peat that underlies the site is one of the most important habitats for the sequestration of carbon, more efficient even than rainforest. In a time of climate chaos, it is both short-sighted and wilfully destructive to develop Danes Moss and cover it in concrete.
Equally significant in an age now defined as the Anthropocene is the worldwide loss of biodiversity. Britain as a whole is twelfth from bottom on a list of 240 countries, while England specifically is judged the eighth most denatured country on the Biodiversity Intactness Index. These considerations place Danes Moss on the very frontline in terms of future national policy. We believe these considerations require wholesale change in urban planning.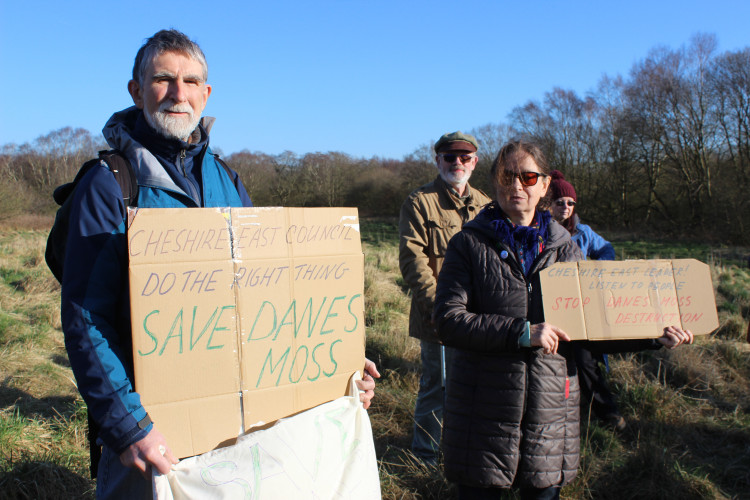 'SAVE DANES MOSS' campaigners pictured in February 2022. (Image - Alexander Greensmith / Macclesfield Nub News)
Britain's recent experiences of lockdown and physical restriction as a result of coronavirus have revealed the central importance of green space and semi-natural landscapes, especially for those living in towns and cities. We believe Danes Moss should be incorporated into Macclesfield's planned environment as a future resource for the mental and physical well-being of all its residents.
Simultaneously, Danes Moss is home to thousands of other species – mammals, birds, insects, plants, fungi, mosses and lichens. Many of these are rare and declining nationwide. We believe they have a right to continue to flourish at a site where they may have lived continuously since the last Ice Age.
We therefore repeat our recommendation that you act now and halt your proposals to develop Danes Moss in the interests of all Macclesfield's residents, human and wild.
Yours faithfully,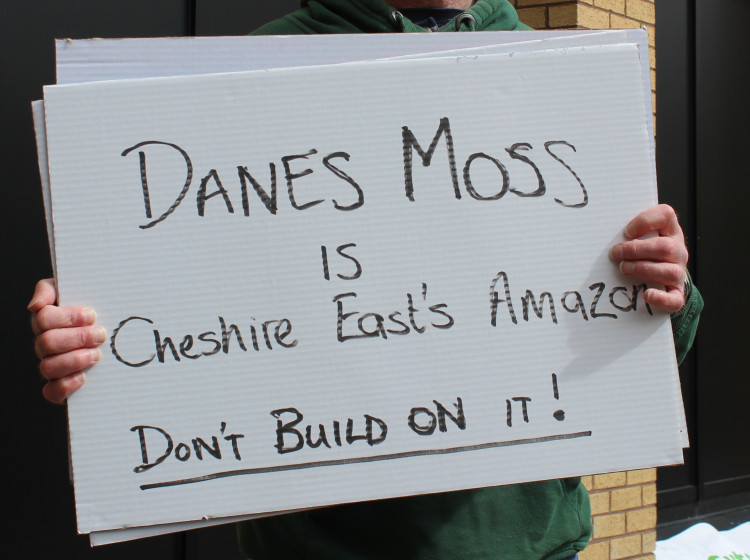 Cllr Sam Corcoran and Cheshire East Council have been contacted for comment. (Image - Alexander Greensmith / Macclesfield Nub News)
Professor Simon Caporn, Manchester Metropolitan University
Professor Nicky Clayton, FRS, University of Cambridge
Mark Cocker, author and naturalist
Mary Colwell, author and conservationist
Professor Jim Crace, author, FRSL
Professor Charles Foster, author, University of Oxford
Kathleen Jamie, poet, author and Makar - Scotland's Poet Laureate, FRSL
Jay Griffiths, author
James Lowen, author and naturalist
Richard Mabey, author and broadcaster, FRSL
Dr Robert Macfarlane, writer and professor (University of Cambridge)
Jack McNeill, clarinettist, composer and director of Propellor ensemble
Peter Marren, natural history writer
Roger Morgan-Grenville, author
Jackie Morris, artist and writer
Chris Packham, Wildlife expert, TV presenter, Author and Conservationist
Professor Miles Richardson, University of Derby
The campaign against the housing plans will likely elapse 17,000 signatures this week.
Cheshire East Council and Cllr Sam Corcoran have been contacted for comment.
See Also: TV celebrity Chris Packham weighs in on under-threat Macclesfield Danes Moss site
Macclesfield: Have you signed up for our FREE Friday weekly newsletter? It contains each week's top five Macclesfield news stories, and one EXCLUSIVE article?
1400 of you have signed up already. Simly enter your email address on this link.
Free from pop-up ads, or unwanted surveys, Macclesfield Nub News is a quality online newspaper for our town.