Meet the Macclesfield t-shirt company combatting climate change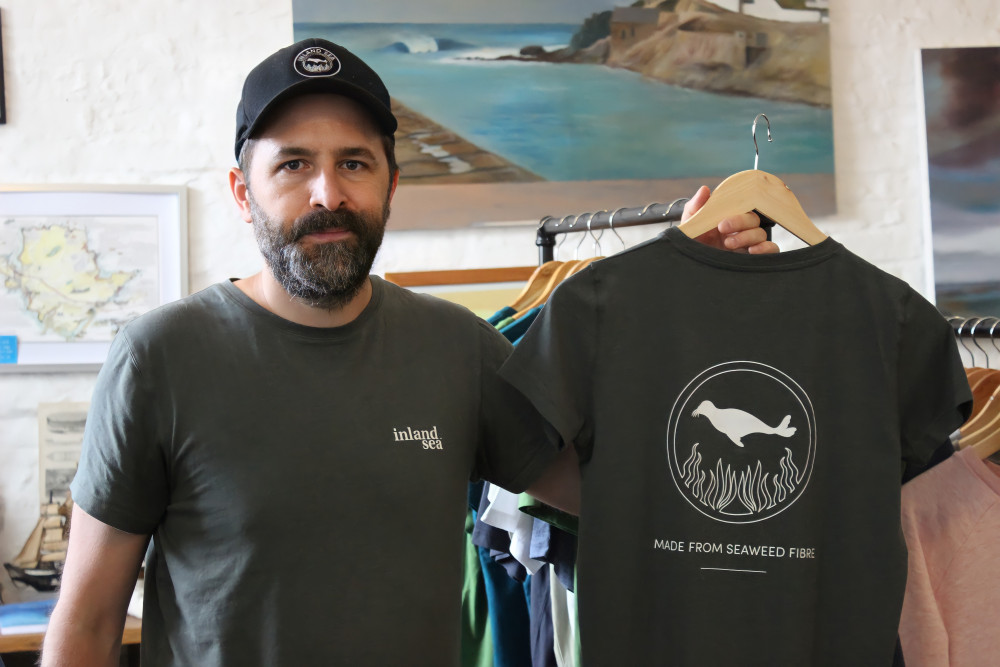 Lifelong Cheshire resident Adam Costello is celebrating the five-year anniversary of his sustainable clothing company. (Image - Alexander Greensmith / Macclesfield Nub News)
A Macclesfield business is on a mission to change fast fashion for the better, with his sustainable seaweed-based t-shirts.
Inland Sea Founder Adam Costello (40) creates ethically-sourced t-shirts at a fair price, without all the carbon emissions a cheap and foreign-made t-shirt would bring.
Adam is celebrating his fifth year of business with a new product range launching this month, and with big ambitions for his companies' future.
He sells his seaweed-fuelled shirts all over the world on the internet, and from his store inside The Old Sunday School.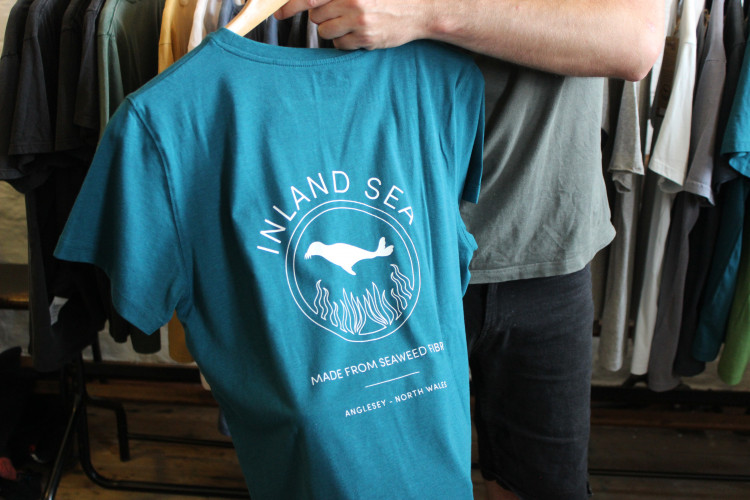 Adam's environmentally-friendly enterprise was kickstarted with a £14,000 crowdfunder. He now produces over 2000 ultra soft t-shirts a year. (Image - Alexander Greensmith / Macclesfield Nub News)
"I ran a podcast about the climate crisis with my partner, and that's when I first found out about the power of seaweed," said Adam.
"Seaweed can soak up 20 times more carbon per acre than the equivalent land based forest. [Source]
"Amazingly, even through seaweed has been here before the dinosaurs, it is still something we don't know a lot about.
"I found out about seaweeds power thanks to a grower called in Devon. I first met him when I invited him on my podcast, and he told me about how he started his business.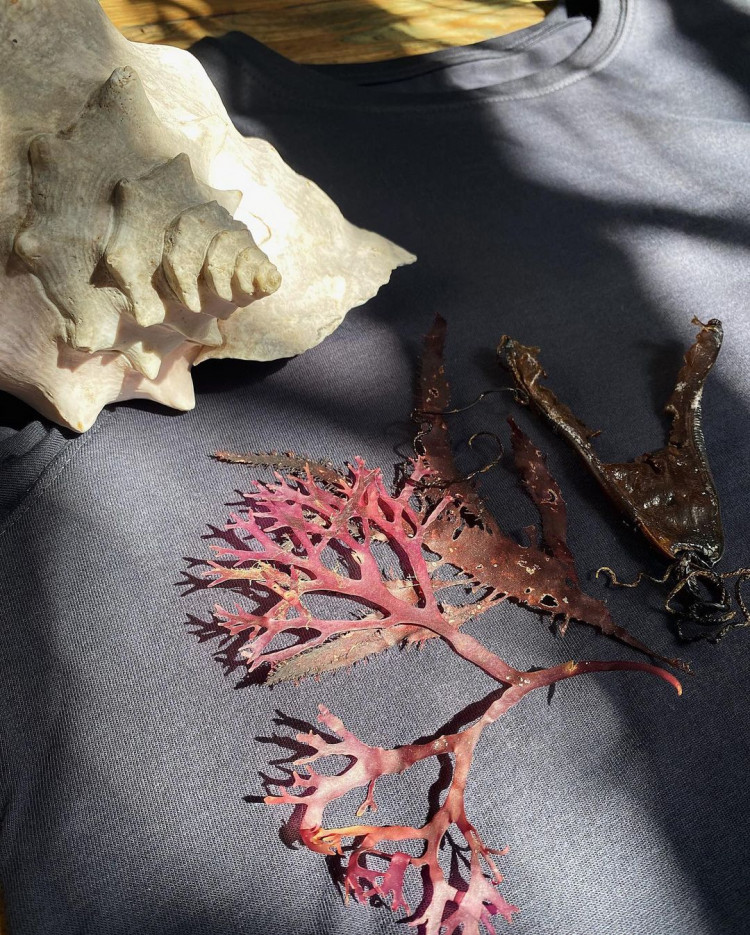 Adam claims the comfy seaweed shirts seaweed emit vitamins and minerals as you wear it. The composition is 30% seacell and 70% Australian 'super' cotton. (Image - Inland Sea Instagram)
"He has diabetes, and has special socks made out of seaweed. And the seaweed contents in the diabetes socks helps with it, with the iodine that the seaweed emits.
"From there, it was a lightbulb moment and I thought what if we could put seaweed into t-shirts as well.
"Unlike trees which take up to 20 years to start reaping the carbon capture rewards, seaweed takes much less time to grow and soaks up more carbon."
Furthermore, The stylish and eco-friendly shirt-makers are better for the environment as they have less miles to travel from manufacturing to the clothing rail.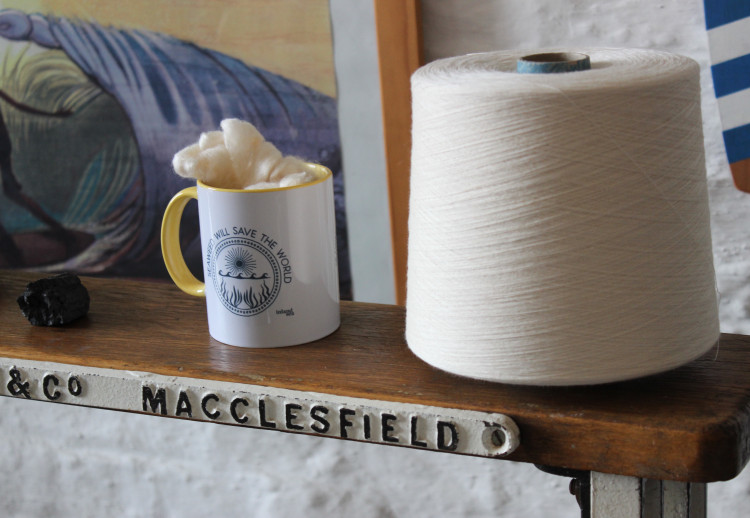 Adam keeps the first-ever yarn made in this country with seaweed fibre and fully-traceable Australian 'super cotton' as a prop in his store, to reference his humble beginnings. The yarn is also known as seacell, and then mixed with cotton to make the luxurious tees. (Image - Alexander Greensmith / Macclesfield Nub News)
They also contain no polyester, so no petroleum (oil) has been used in the production of the tee itself.
Adam uses spun cotton with English fine cottons in Dukinfield, to support the north-west's attempts to revive their historic cotton spinning industry. The cotton - like all products - are shipped from abroad.
A company which provides full traceability of where the cotton comes from, and uses much less water than what fast-fashion 'organic cotton' claims to be.
"The seaweed we now use is sustainably harvested every four years in Iceland, and only the tips are chopped off," added Adam.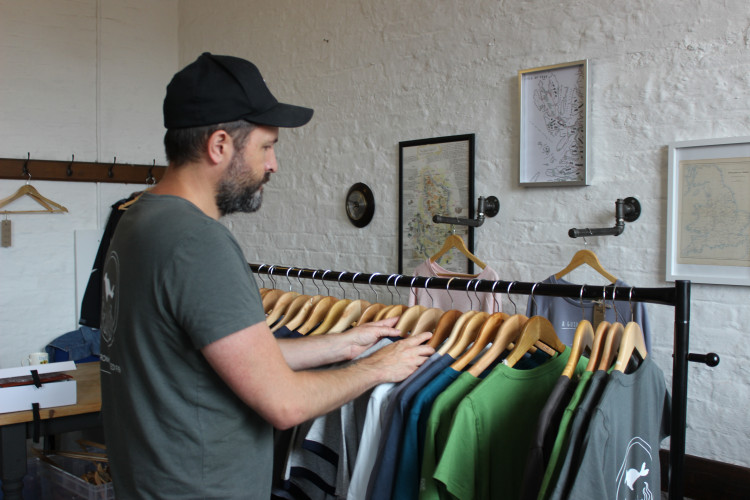 Seaweed also produces oxygen, so helps the air that we breathe as well. So as well as offsetting carbon emissions, Adam's business also helps with air quality as well. (Image - Alexander Greensmith / Macclesfield Nub News)
"So a full seaweed is never uprooted, and can keep on growing.
"It is then blended with eucalyptus and cotton for a comfortable feel.
"Our cotton arrives by boat, which is low carbon, and not air-freighted like a lot of high street shops would use.
"The cotton also uses good pesticides. A lot of commercial cotton kills every bug and adds horrible stuff to the cotton. Our supplier doesn't do that."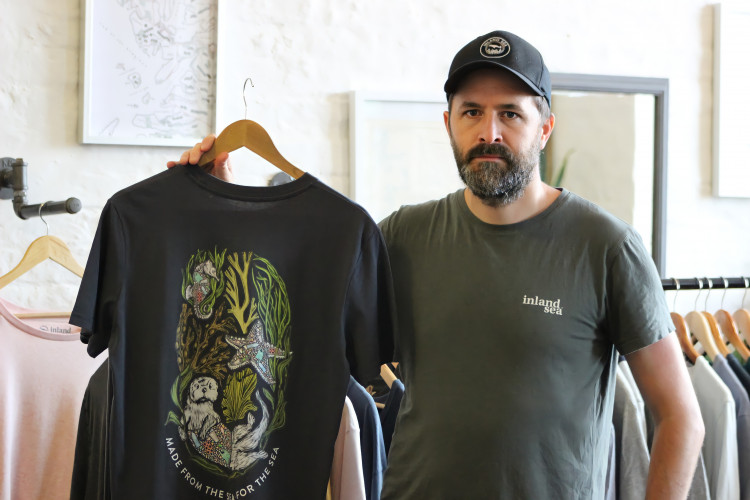 Adam, who is also a surfer, named the business Inland Sea, as many of his customers (including those in Macclesfield) don't live on the coast. But are still harnessing the power of the sea(weed) through his products. (Image - Alexander Greensmith / Macclesfield Nub News)
Adam only sells Inland Sea branded shirts, so anything you buy from there comes with the peace of mind of no moral issues.
"What we've doing is providing full transparency," Adam explained.
"We're giving all the information to the customer. So they can go and spend £5 at H&M or Boohoo on a t-shirt where you don't know what is in there or where its come from, and be greenwashed potentially, and maybe even lied to as with some organic cotton, it could be a mix of different cottons so it would be impossible to prove whether it truly was organic cotton.
"Or you can spend a little more and be confident about everything in the process, and that it is better for the environment.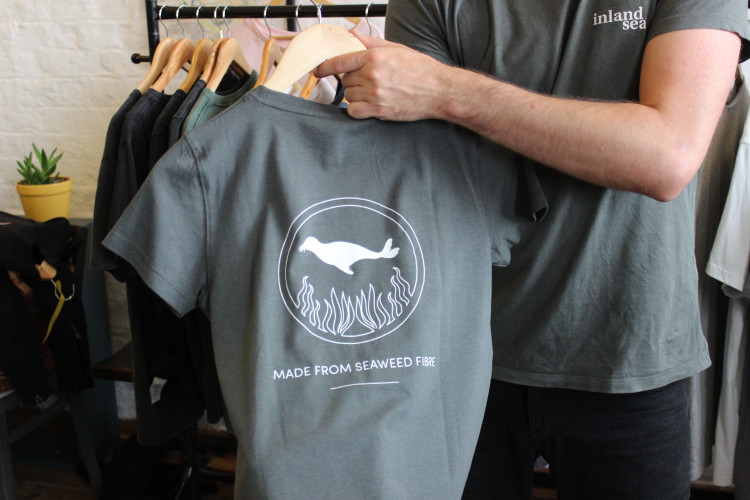 The more tees Adam sells, the more the demand for seaweed will go up, creating more oxygen and soaking up more carbon, potentially preventing the worst possible outcome of climate change. (Image - Alexander Greensmith / Macclesfield Nub News)
"I now know how much it costs for an ethically-made t-shirt to be produced. Where everybody should be paid a fair wage, is paid one.
"A lot of people might not like to pay £40 for a t-shirt, but that is on the cheap end of the scale for ethically-sourced t-shirts. Which is shocking to some.
"That is the minimum we need to charge to pay everyone and make a profit.
"Most people don't even know that the UK one of is the largest fast fashion manufacturer in the world. We're trying to offset carbon emissions from that, with our sustainable and transparent process.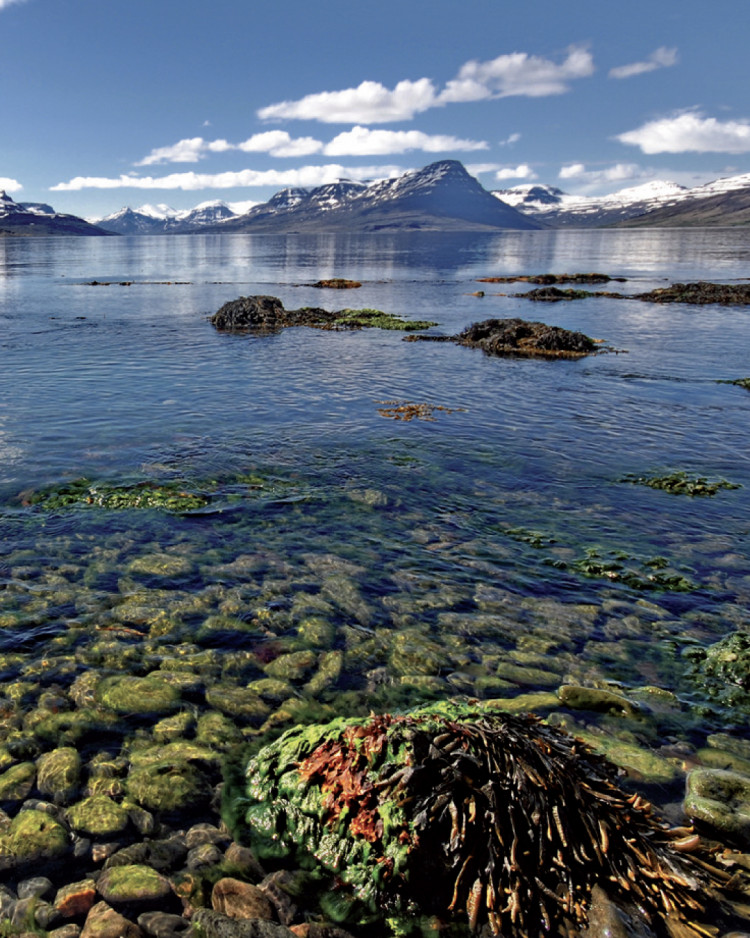 Seacell contains a brown seaweed called Ascophyllum Nodosum or Knotted Wrack. The seaweed is harvested in the cold and pure fjords of Iceland. (Image - Inland Sea Instagram)
Adam, who grew up in Northwich, first fell in in love with Macclesfield when coming here to meet his skateboarding friends.
He then moved here at the same time he started Inland Sea, after he met his partner from Bollington. And had a Treacle Market stall for two years, before moving into his current premises in February 2021.
"In the future, we want to stay local," he also said.
"There's potential of having a little shop with more of a high street presence. But we'd also like to educate more people locally.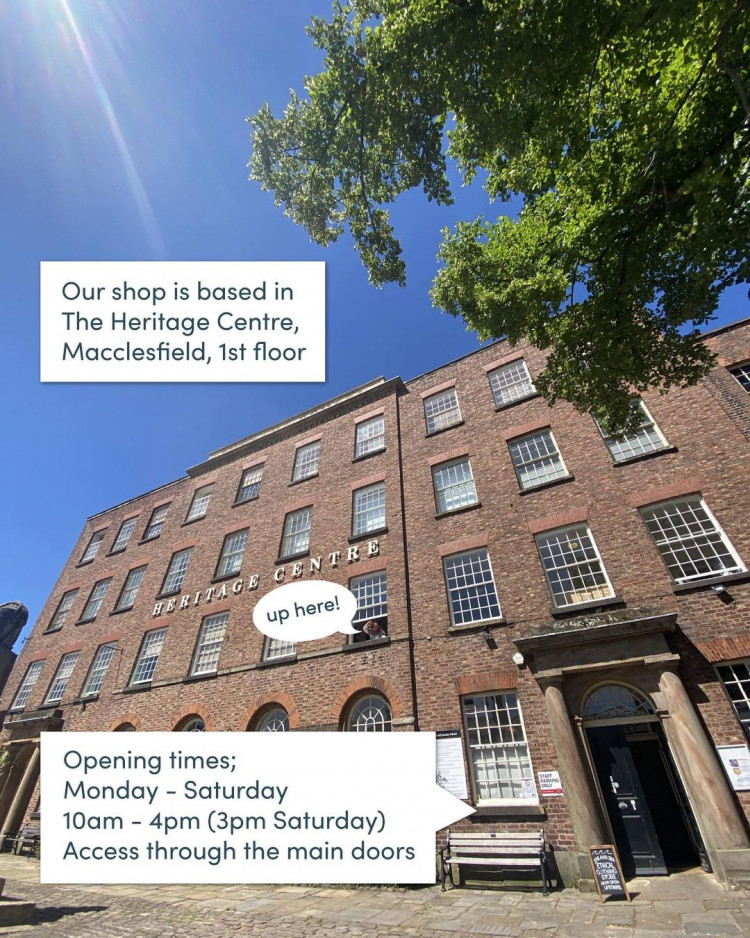 "The education part of our brand is really important to me. Justifying why you need to spend £40 on a t-shirt and justifying the longevity that you will get out of that, and why cheap fashion is a false economy.
"That only works from community upwards, and we've been doing that for years. It is great to share a building with Scoop and Scales as we share similar values.
"But the bigger picture of where the business will success is the manufacturing side of it. We're partnering with a plastic-free golfwear brand to make items for him, effectively supplying the fabric.
"If we can manufacture on a larger scale using truly sustainable materials, that would be amazing. We want to help other brands that want to do it in the right way as well.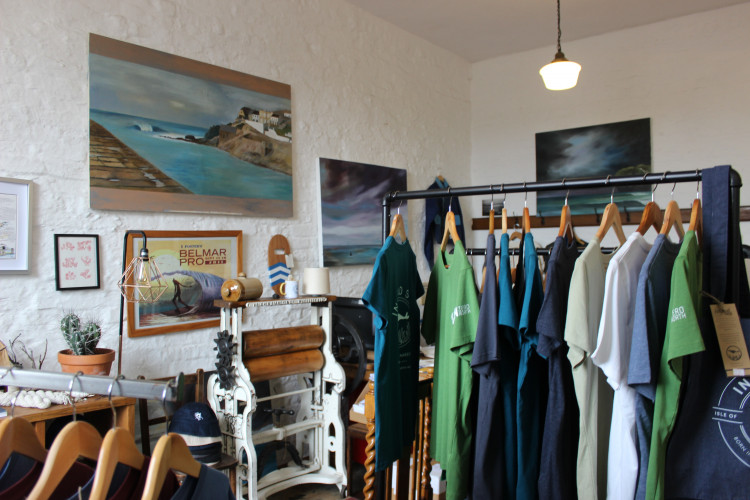 The Macclesfield biodegradable clothing range hires a local youngster through the Kickstart Scheme to do their social media, and Adam's proud mum helps out with the business as well. (Image - Alexander Greensmith / Macclesfield Nub News)
"I love being a business in Macclesfield as there is no attitude about it. People are genuine."
Following the recent heatwave of the UK's hottest ever days, Adam responded to a question at the end of the interview about how he deals with climate anxiety, a rising problem in our nation.
In October 2021, ONS figures revealed 43% of adults in Great Britain reported having been very or somewhat anxious about the future of the environment over the past month.
"I've had anxiety throughout my life, but as I'm from a slightly older generation it has only been recently when that has turned into climate anxiety," he revealed.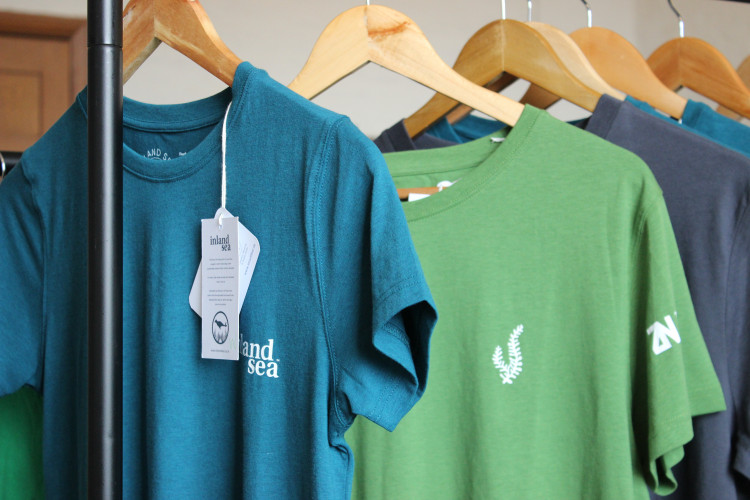 The eco-friendly family business has 7,000 followers on social media. They also use sustainable packaging. (Image - Alexander Greensmith / Macclesfield Nub News)
"Seeing videos of glacier collapse and people dying from melting glaciers like in Italy recently really starts to make climate change real for people. You can't see climate change until big weather events happen, as we've seen recently.
"It has always been the drive of my business. We've got a massive opportunity at the beginning of this century - like Britain did with the industrial revolution in the last century - to start a green revolution."
You can browse their range of unisex shirts, hoodies, women's clothes and accessories by clicking here.
Their shop can be found at Inland Sea, First Floor, The Old Sunday School, Roe Street, Macclesfield, SK11 6UT.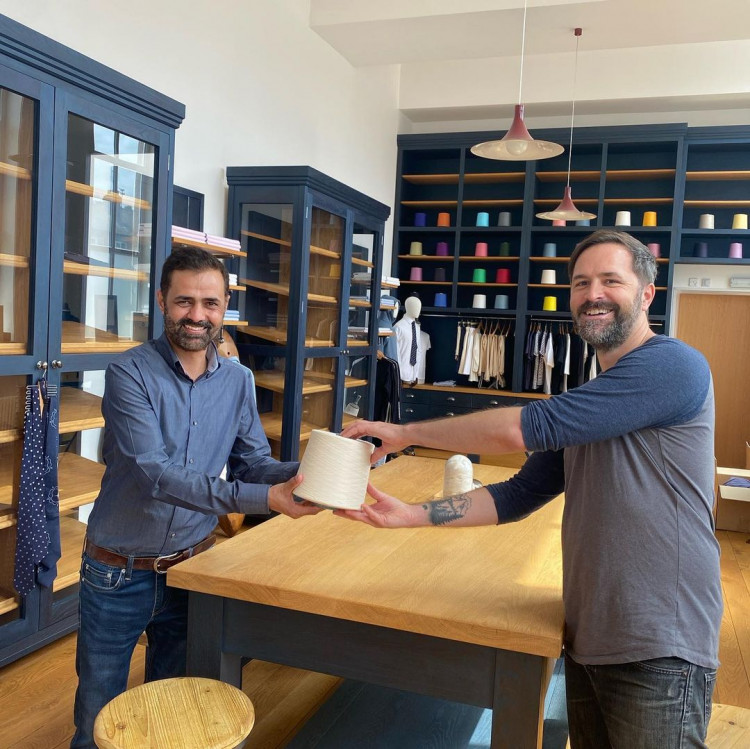 Adam's cotton is spun just 23 miles from Macclesfield. (Image - Inland Sea Instagram)
Macclesfield: You can also support the business for free by giving them a follow on Facebook or Instagram.
Got a business to promote in Macclesfield? Advertise it for FREE on our Local List.
Macclesfield: Have you signed up for our FREE Friday weekly newsletter? It contains each week's top five Macclesfield news stories, and one EXCLUSIVE article?
1400 of you have signed up already. Simply enter your email address on this link.
Free from pop-up ads, or unwanted surveys, Macclesfield Nub News is a quality online newspaper for Macclesfield and the surrounding area.