Retired vicar from Macclesfield released from prison after peaceful civil resistance at Kingsbury Oil terminal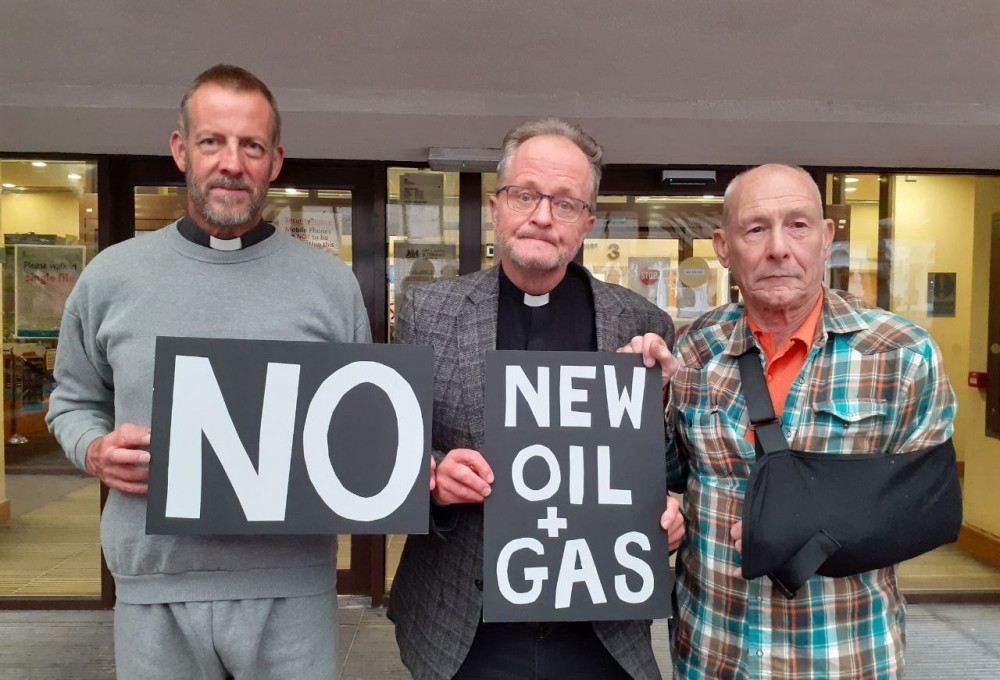 Three Vicars released from prison, with ex-Macclesfield vicar Rev'd White on the left. (Image - Just Stop Oil)
A retired vicar from Macclesfield accused of breaching a High Court injunction by peacefully sitting outside the Kingsbury Oil Terminal to demand an end to new oil and gas projects in the UK, has received a suspended sentence.
Rev'd Bill White who appeared at Birmingham Crown Court last Thursday, was among 51 Just Stop Oil supporters remanded to prison on 15th September after they refused to comply with court proceedings and promised to break the injunction again. The 51 included three members of the clergy.
The 51 were accused of contempt of court for sitting outside the Kingsbury Oil Terminal on 14th September, in breach of the North Warwickshire injunction - a private injunction which seeks to outlaw any demonstrations, protests or peaceful civil resistance from taking place outside Kingsbury Oil Terminal in Warwickshire.
The charge of contempt of court relates to breach of the North Warwickshire injunction.
Peaceful demonstration. Rev'd White is holding the banner (stood up on the right). (Image - Just Stop Oil)
Rev'd White was sentenced to 26 days suspended for 2 years and also ordered to pay costs of £412. The conditions of the suspended sentences follow the terms set out in the injunction, not to protest in the vicinity of the Kingsbury Oil Terminal.
Bollington resident Rev'd Bill White said:
"You expect a member of the clergy to stand up for truth and justice, and in a way consistent with the values and principles of Jesus. Being faithful to that calling has led me to where I am now."
"I have studied climate science. I've petitioned and written to MPs and ministers. I can't sit by as the government issues new fossil fuel licenses and destroys my family's future."
"The sense of helplessness felt now is already a personal prison. They threaten unlimited fines, taking away my grandchildren's inheritance. But in the future we are heading towards that money will have no value for them."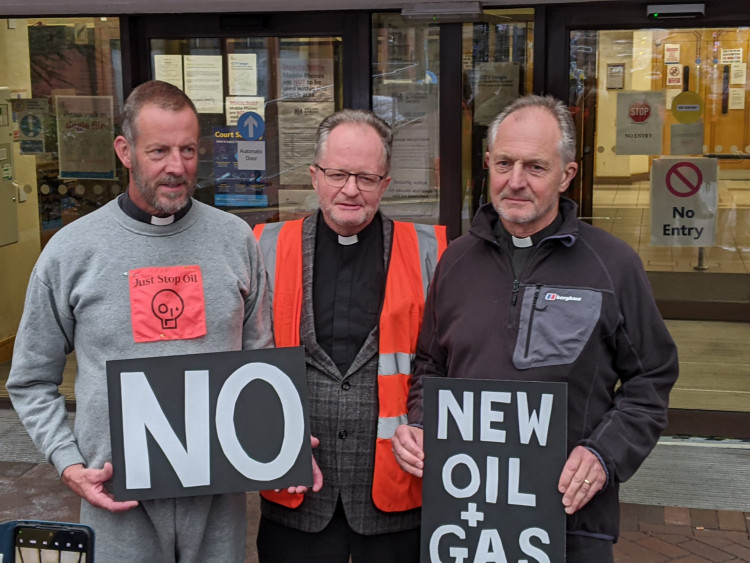 Rev'd White (67) inow spends his time as a grandfather and raising environmental awareness. He is pictued on the left, alongside two other vicars. (Image - Just Stop Oil)
"Join others from Just Stop Oil to Occupy Westminster on October 1st to demand an end to all new oil and gas."
This committal hearing was the third day of four days of hearings taking place at Birmingham Crown Court last week, with more taking place this week.
A spokesperson for the Just Stop Oil coalition said today;
"Last week 56 supporters of our campaign were being held in prisons around the country."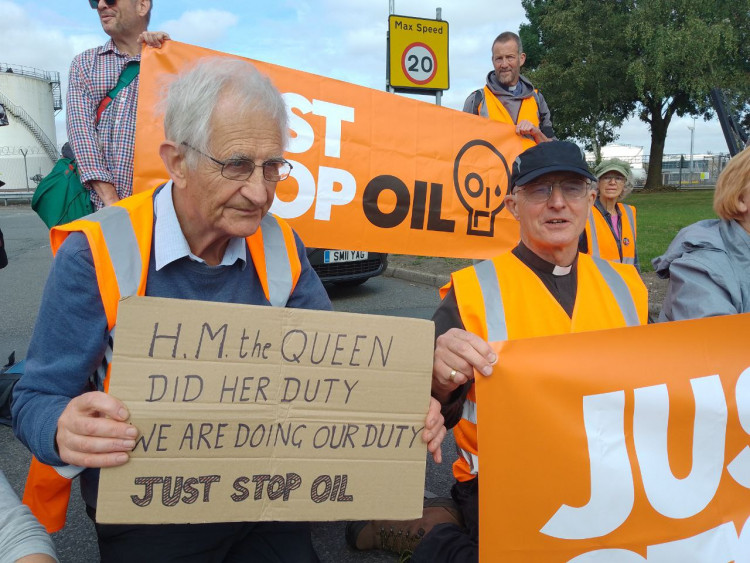 Just Stop Oil is a coalition of groups working together to demand that the government immediately halt all future licensing and consents for the exploration, development and production of fossil fuels in the UK. (Image - Just Stop Oil)
"This is unprecedented in the UK's recent history. This year we have experienced the hottest temperatures ever recorded in the UK, uncontrollable wildfires and water shortages, whilst our government continues to approve new oil and gas projects in the UK. If the government won't stop the genocidal death project that is new oil and gas, then ordinary people have no other choice but to stop it themselves, to protect the lives of their families, their communities and everything they hold dear."
For more information about Just Stop Oil please click here and here.
The Department of Energy and Climate Change have been contacted for comment.
See Also: Meet Wincle Brewery founder and Macclesfield resident Giles Meadows
Got a business to promote in Macclesfield? List it for FREE on our Local List.
Got an event you'd like us to promote in Macclesfield? Advertise it for FREE on our What's On section.
Macclesfield: Have you signed up for our FREE Friday weekly newsletter? It contains each week's top five Macclesfield news stories, and one EXCLUSIVE article?
Please note: Some content from this article was gathered, and posted to Nub News in April 2022, but a server crash meant the article had to be republished again with updated information.
1400 of you have signed up already. Simply enter your email address on this link.
Free from pop-up ads, or unwanted surveys, Macclesfield Nub News is a quality online newspaper for Macclesfield and the surrounding area.