Macclesfield: The sinking feeling continues but slow progress is being made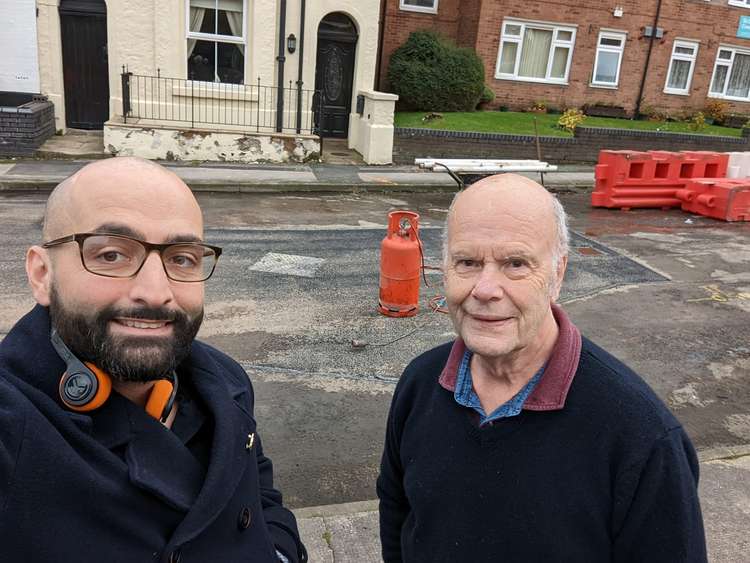 Road is reopened: Ashley Farrall poses with resident Ronnie Biggar.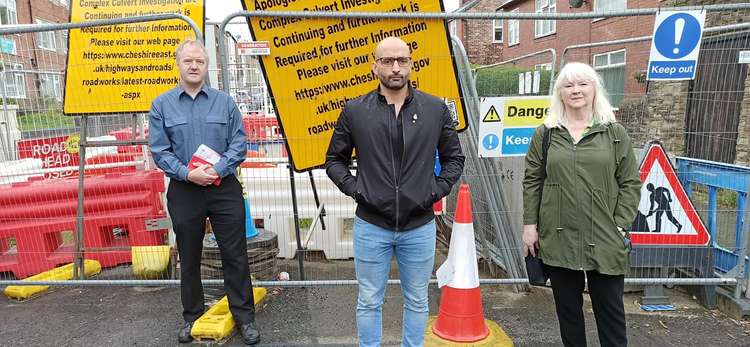 The Leader of the Council accepts invite to see the issue himself [with Ashley (centre) and Liz (right)] and speak to residents.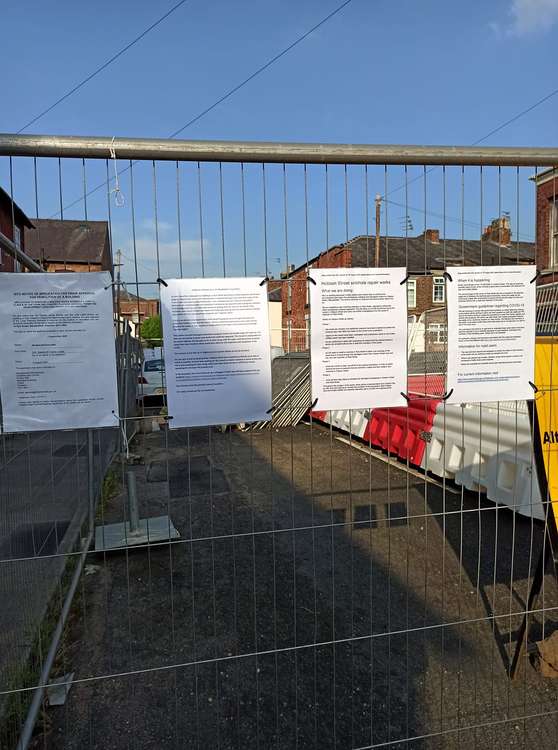 Councillors put up their own notices on Ryle Street and Hobson Street after repeated asks for Highways to do it.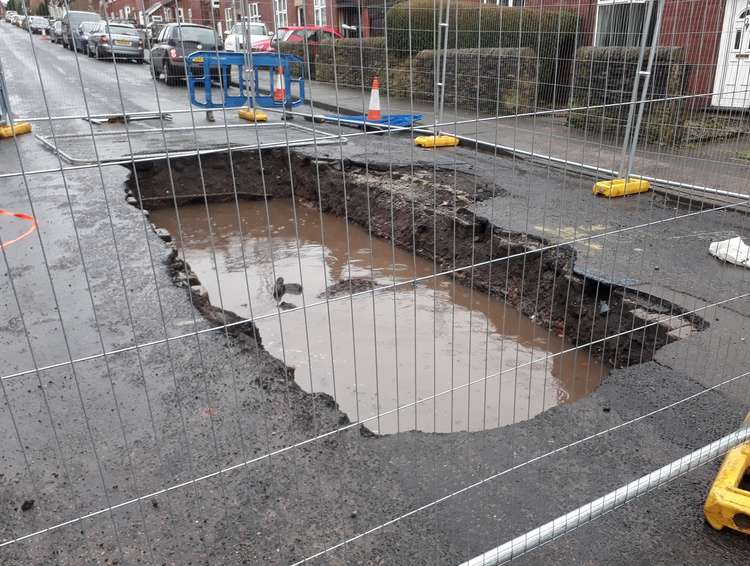 The infamous sinkhole when it first appeared on Hobson Street.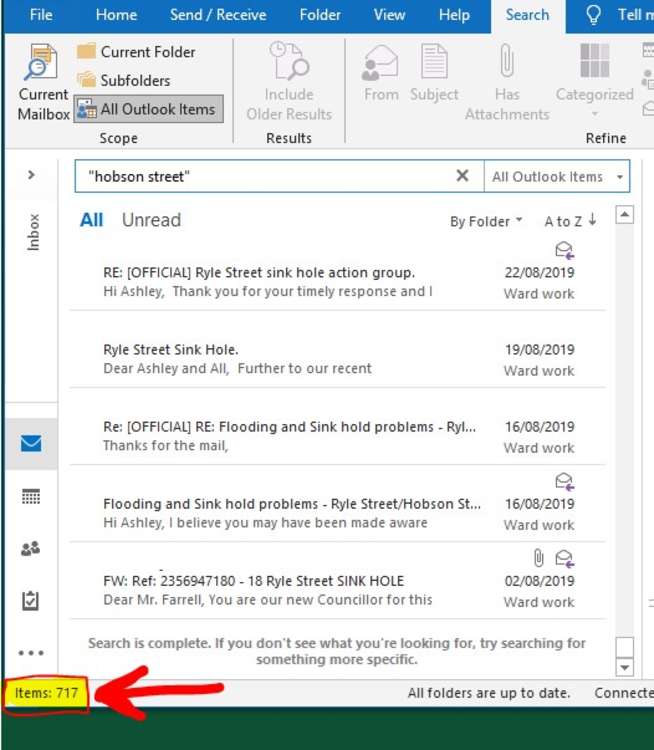 The number of emails alone, responses and replies Cllr Farrall has had regarding the Sink holes since 2019.
Since 2018, Macclesfield residents of Ryle and Hobson Street have had to deal with the stress and worry brought about by the appearance of sinkholes on their streets, but now they can finally see the light at the end of the tunnel.
After being elected in 2019, my fellow Central Ward Councillor Liz [Braithwaite] and I have been relentlessly trying to pry information away from the Cheshire East Council's highways maintenance, provided by a private company Ringway Jacobs who was given a 15-year contract in 2018 under the Conservatives administration.
Our requests have gone to the top of the Council to include the Leader and Cheif Executive, the Leader and deputy accepted our invitations to see the situation themselves and speak to residents.
Simple communication such as putting up notices, setting up a web page and just sending letters to residents etc has been a real struggle to get Ringway Jacobs to do and for an issue described by many in the Council as the most complex issue in its history.
The excuse is usually is that they don't want to say or do something that might make them liable for legal action, with issues mainly around riparian rights.
Riparian rights are basically when your land adjoins a watercourse or has a watercourse flowing through or within it, then you are responsible for it. Information and a handy guide can be found on the links below.
(Here and [L]https://thefloodhub.co.uk/am-i-at-risk/#section-2[L+]here)
So in the case of the Victorian culverts in Macc, where they run through a property, apparently these are the responsibility of the homeowners.
Homeowners who may not even know it exists or have direct access as the rights are automatically inherited and don't need to be detailed in sales or even on the land registry!
This law seems daft to me when we think back to the privatisation of water in the 80s under Thatcher and the promise that private companies would upgrade the crumbling Victorian waterways.
In the wake of the recent sewage scandal and according to the River's Trust, the Macclesfield area had more than 1081 sewage spills into our waterways, lasting more than 8500 hours from United Utilities owned systems in 2020, which is disgusting.
(Source)
The excuse given by our local MPs for voting down the amendment to make private companies reduce sewage dumps in our waterways was that it would cost the public around £600bn!
I ask why would it cost the public when it should be the private companies that have been profiteering from our water? Just don't mention the water industry giving themselves fat bonuses and lobbying the Government instead.
So after all this stress and toil of various surveys and legal matters between Ringway Jacobs, various landowners and United Utilities etc we finally have the sinkhole repaired, but we're told it's only a temporary repair.
I am afraid this comes back to bad communication again, what I've been led to understand is that the fix involves an overflow from the culvert into the sewer and United Utilities have agreed to this as a temporary solution only, although depending on the results of further surveys it might form part of a permanent solution.
In the meantime, United Utilities say they didn't agree even to this temporary solution and whilst all this blame game back and forth between United Utilities and Cheshire East Highways continues, residents have been caught in the middle and are the ones who are suffering.
At some point, we all should think about what real value we the public are getting from the privatisation and profiteering of our public services and infrastructure, it doesn't seem to be very much.
The Council has set up a website, after our request, where the current information regarding the sinkholes is updated.
This article was nubbed to us by Cllr Ashley Farrall. You too can write for Macclesfield Nub News, by clicking the black 'Nub it' button on our homepage.
See also: Hobson Street sinkhole song rocks Macclesfield after 700 days of inaction
[I]Macclesfield: Have you signed up for our Friday weekly newsletter? It contains each week's top 10 Macclesfield news stories, and one FREE exclusive article?
1000 of you have signed up already. Simply enter your email address in the shaded box below or on this link.
Free from pop-up ads, or unwanted surveys, Macclesfield Nub News is a quality online newspaper which produces 30-40 stories a week for our town.