Macclesfield property surveyor offers inclusive drone service and charity donation
Hogbens Chartered Surveyors, who have an office on Chestergate, have been in our town for almost ten years.
---
---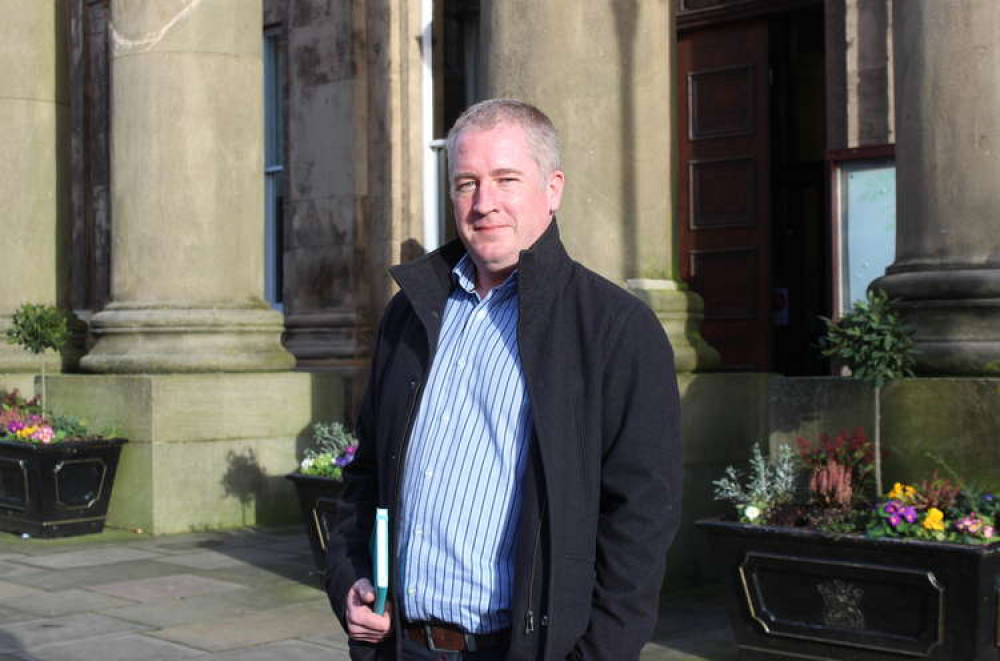 Macclesfield: Hogbens Chartered Surveyors have some great offers on their services in 2022. Pictured is founder James Hogben, from Bollington. (Image - Alexander Greensmith / Macclesfield Nub News)
A Macclesfield property surveyor is celebrating nine years in business this month with some special offers.
Hogbens Chartered Surveyors, who work on Chestergate, have offered affordable property surveying to the Macclesfield area since January 2013.
It was founded by father-of-two James Hogben (40), who has lived in Bollington for almost 20 years.
James prides his business on the transparency of his surveying practices and is regulated by the RICS (Royal Institution of Chartered Surveyors).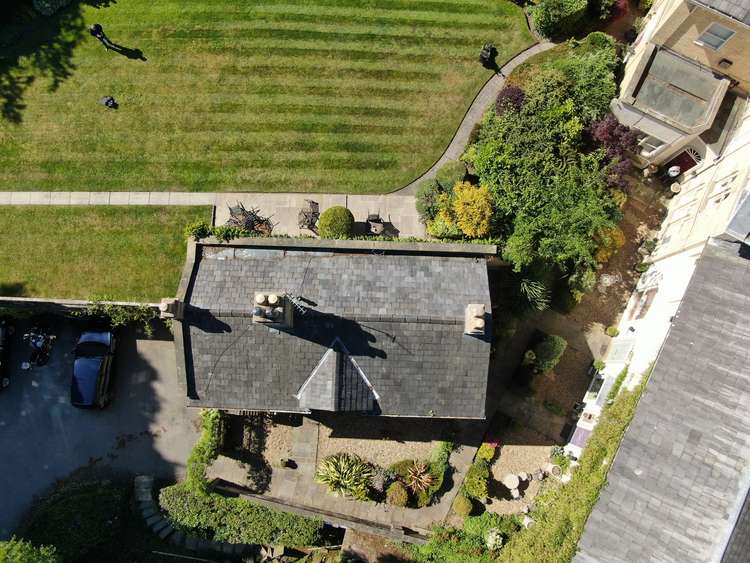 Hogbens Chartered Surveyors services both commercial and private properties throughout the UK. Here is a drone shot of a residence in Alderley Edge. (Image - Hogbens Chartered Surveyors)
Property surveying is an integral and necessary part of purchasing any property; from an initial inspection to a detailed written report undertaken by an experienced and professional surveyor. A thorough investigation of any property protects the client and their potential investment.
Surveyors have a responsibility to discover and inform of any major problems with a property, a fact ensured by the recent introduction of an inclusive drone service as part of any Hogbens building survey; to come and a drone will access what was once a hard-to-view area of the property.
James is a qualified drone pilot alongside being a Chartered Surveyor which allows him to undertake commercial inspections of properties, a service that is not readily available within the local area.
This technological advancement is a free bonus that Hogbens offers that, some surveyors you can hire in the Macclesfield area would additionally charge for.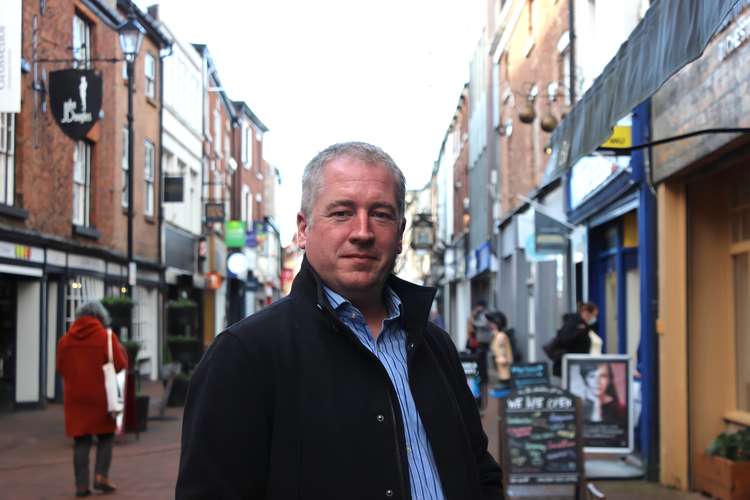 James comes from a family of property experts. His dad was a building surveyor, one brother still works as a surveyor in the South, and another is an estate agent. (Image - Alexander Greensmith / Macclesfield Nub News)
The building expert also prides himself on communication; giving clients an immediate call after his visit - so they aren't kept waiting if there are any serious issues – followed shortly by a full detailed report and a further phone call to discuss any implications.
"A building survey can mean the difference between purchasing or not purchasing a property, it can be a very stressful time and I would hope that I can alleviate some of this stress," James said.
"It helps put the buyers' minds at ease or know what they'll need to prepare for.
James is hoping to launch a discount link in the future for Nub News readers, having just announced a partnership with Macclesfield Nub News.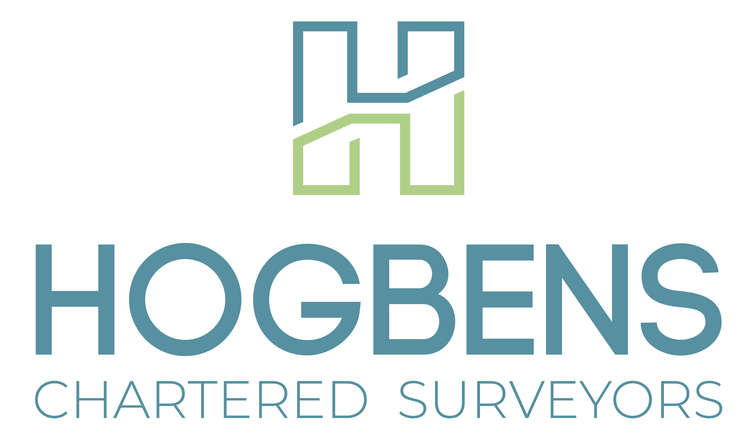 James' only other employee is his wife, making Hogbens a family business. (Image - Hogbens Chartered Surveyors)
It is the next step in an optimistic future for the family-run Macclesfield company.
"I think the property market has been extremely busy in the last eighteen months, especially around here and I'm hoping that will continue," James added.
"From my point of view, I would like the company to grow and to be able to offer a more extensive range of surveying services in the future.
"What I like about Nub News is that the stories are relevant and informative to the local community and I always look forward to reading them.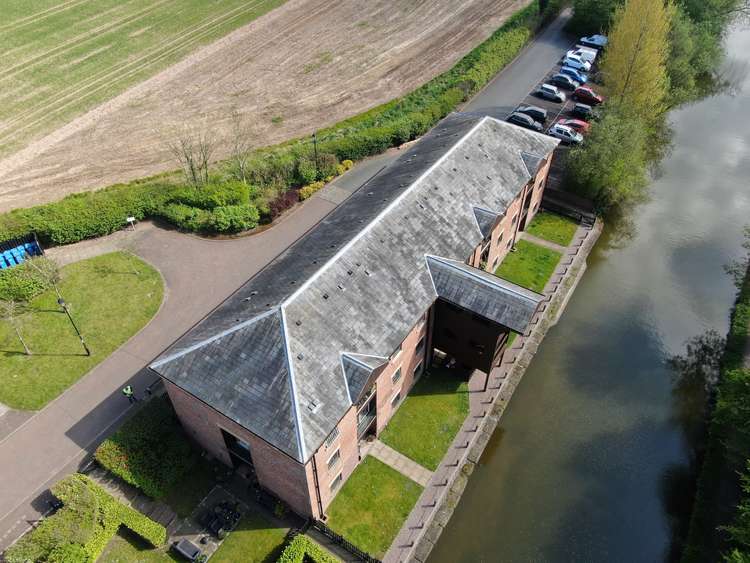 A drone survey of an office building in Warrington. (Image - Hogbens Chartered Surveyors)
"They've got decent photos and headlines that bring you in and I like the design of the website, it is very clean and modern.
"I am excited as to what is going to happen working with Macclesfield Nub News."
James is keen to show support for other local businesses like Nub News, and is looking to increase his reach within the community, making Nub News the perfect partner.
Hogbens Chartered Surveyors will donate a proportion of their fee for building survey work when you mention you have found them through Macclesfield Nub News.
His charity of choice is The Macclesfield Roundtable, which supports good causes and community projects in our town.
So you know if you use Hogbens for your next house survey, you'll also be doing some good in the community, as well as supporting a small local business.
"Welcome Hogbens Chartered Surveyors to Macclesfield Nub News, said Karl Hancock, CEO of Nub News.
"Without community-minded sponsors like Hogbens Chartered Surveyors, we wouldn't be able to provide the locally-relevant news for our Macclesfield readers, free from intrusive pop-up ads and clickbait."
To get started with Macclesfield's best property surveyor for when you move homes, please call 0161 477 7770 or email [email protected]
You can follow Hogbens on Facebook, Twitter, Instagram. Their website is here.
Macclesfield: Have you signed up for our FREE Friday weekly newsletter? It contains each week's top 10 Macclesfield news stories, and one EXCLUSIVE article?
1100 of you have signed up already. Simply enter your email address in the shaded box below or on this link.
Free from pop-up ads, or unwanted surveys, Macclesfield Nub News is a quality online newspaper which produces 30-40 stories a week for our town.