New Macclesfield bar wants to bring footfall to west of Chestergate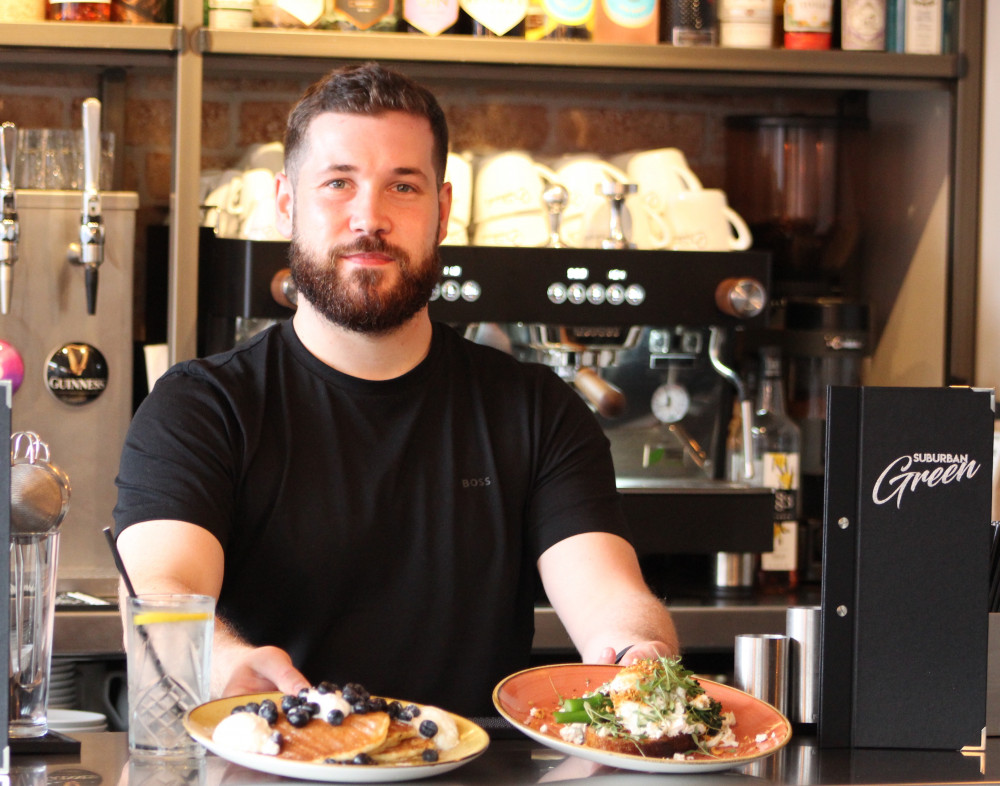 Broken Cross resident Callum Gregg-Williams is a Co-Owner of Suburban Green Macclesfield, and moves from their successful Wilmslow establishment to get the new bar going. (Image - Alexander Greensmith / Macclesfield Nub News)
Macclesfield's newest bar wants to bring more people to their part of town.
Suburban Green, which is located next to new boutique hotel BOHOTEL on 88-90 Chestergate, offers long opening hours plus a luxury food and drink menu.
Macclesfield resident Callum Gregg-Williams told Macclesfield Nub News what Suburban Green is all about.
"We're a primarily a bar with great cocktails, lovely wine list, and local people", said Callum.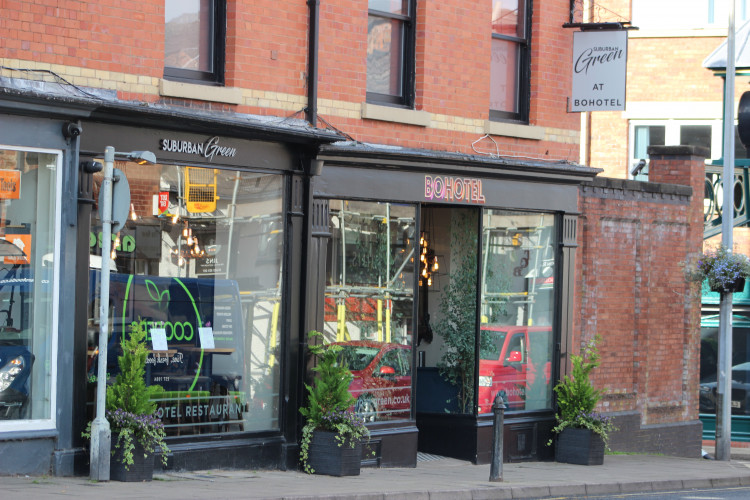 The bars drinks and dishes are extravagant but at an affordable price. A sentiment complimented by the decor. (Image - Alexander Greensmith / Macclesfield Nub News)
"We're a nice place for people to come and enjoy a few drinks with friends or family.
"On top of that we serve a delicious small plates menu as well.
"They are all starter-sized dishes, no particular cuisine really, but our chef Jose is Portuguese so there is a slight Iberian influence. We use what is in season too."
The Macclesfield menu is a little smaller, just by virtue of being a smaller venue, but features local products such as Flour Water Salt, Forest Gin, and their own-branded draught beer called Chestergate Pilsner.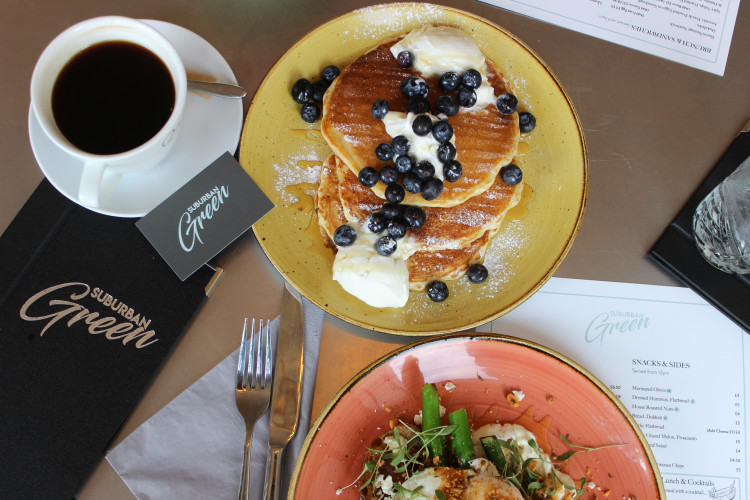 Blueberry pancakes come with honey and Greek yoghurt. (Image - Alexander Greensmith / Macclesfield Nub News)
Expect to see people from all over at Suburban Green, as hotel guests will come here for breakfast or a late night tipple.
Alongside the intimate seating indoors, they have a courtyard outside which adds to the vibe, however, no alcohol can be consumed there.
Callum co-owns the Suburban Green brand with business partner Martin Lowe. They already have a Suburban Green just nine miles from Macclesfield, with one being a fixture of Hawthorne Lane in Wilmslow for over five years.
"Living here myself I had been saying for a while now that we should open up in Macclesfield", added Callum.
15 jobs have been created by the new Macclesfield bar. (Image - Alexander Greensmith / Macclesfield Nub News)
"There is a lot of investment going on and some really cool places opening here. A lot of people are having more nights out here than they wouldn't have normally a few years ago.
"But when I've been trying to get an early morning breakfast in town, particularly on Sunday or Monday, nowhere seems to be open before 10am.
"So we're open from 8am, have a lovely selection of coffees and things to eat."
Breakfast items include pancakes with toppings such as bacon and maple syrup or banana and Nutella.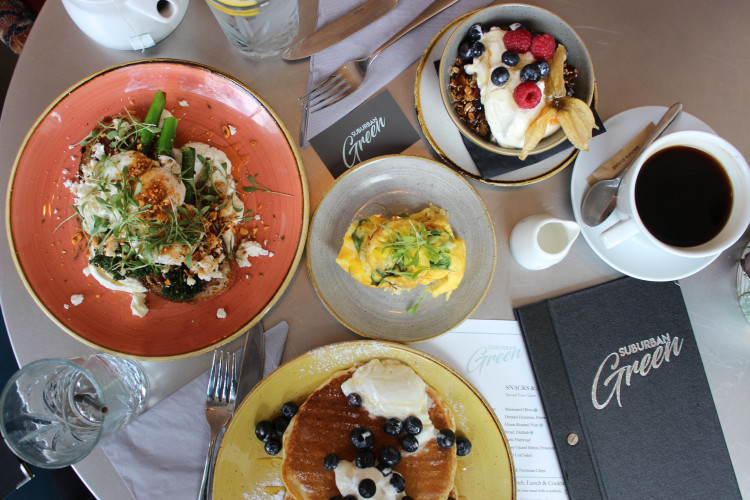 There are 12 tables and 50 seats. (Image - Alexander Greensmith / Macclesfield Nub News)
There is also granola, spinach muffins, and bacon sandwiches.
Veggie options to start the day with include Avocado, feta and poached eggs on sourdough, along with nectarine with honey and goats cheese on sour dough.
Breakfast is served until 2pm, and brunch and small plates can be ordered from 12pm.
The best-selling post-morning meals are the chicken thighs, flat iron steak, and a Portuguese stew.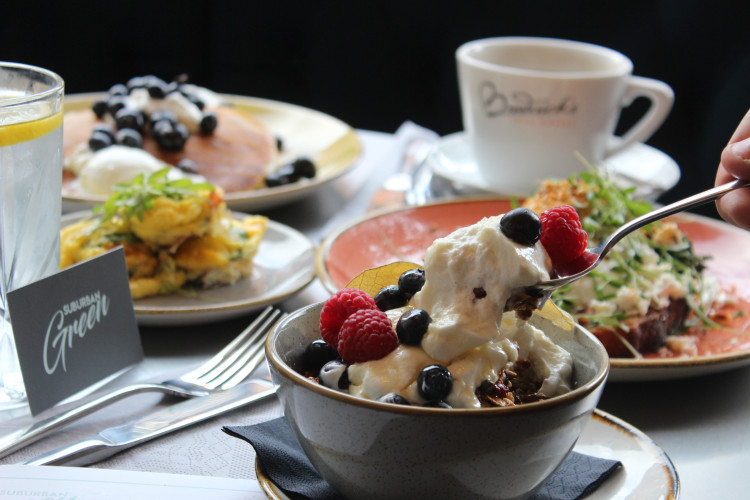 They have over 3000 followers on Facebook. (Image - Alexander Greensmith / Macclesfield Nub News)
Other unique dishes include a saganaki, which is a fried Greek cheese, and shakshouka which is a Middle Eastern breakfast dish with eggs and tomatoes.
In regards to specific dietary requirements, gluten free bread is available, and they will happily cater for vegans if asked.
While the high street directly opposite the town centre is the busier part of Chestergate, Suburban Green wants to stage a claim for Chestergate's west side as an up-and-coming part of town.
"We're hoping to get a bit more activity around this side of town in the days and the evening," explained Callum.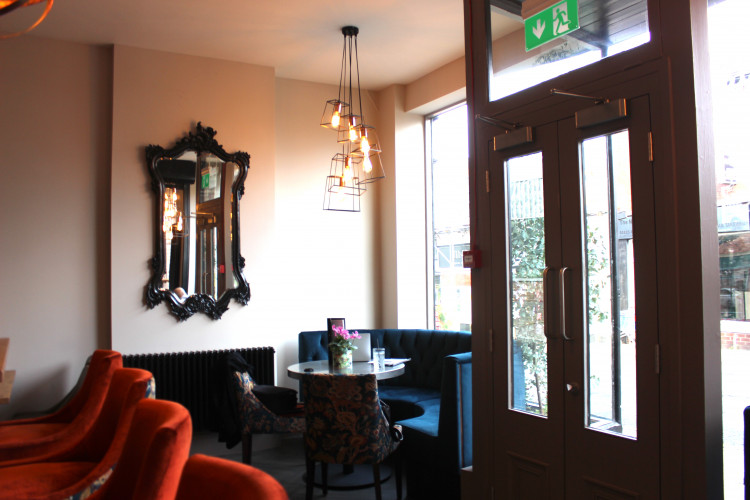 Lots of natural light is let into the bar, which is furnished similar to the neighbouring BOHOTEL. (Image - Alexander Greensmith / Macclesfield Nub News)
"We love The Picturedrome, but it closes at 10pm every day, and if you want another drink you have to walk to the other side of town.
"Round this end, there's a real lack of bars. So at the weekends we're open a little bit longer.
"Elsewhere in town there's loads of people, but we would like to keep people around this area a little bit more.
"One of our mates in Wilmslow has just bought a plot across the road from us as well.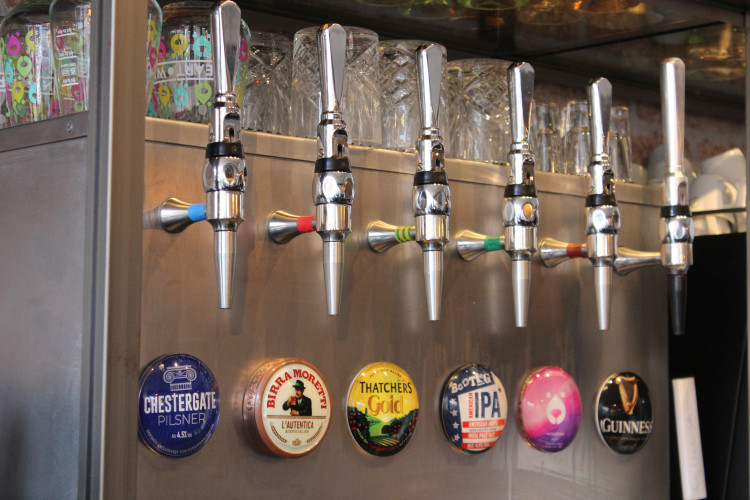 Congleton brewer Beartown Brewery also have their latest beer Inception on tap at Suburban Green. (Image - Alexander Greensmith / Macclesfield Nub News)
"Macclesfield is getting better and better. The train lines are a big draw and the houses are still reasonably priced.
"People wouldn't be investing big if there wasn't something behind it.
"It is really surprising me the variety of people who are staying in the hotel, and we're delighted to serve them and the people of Macclesfield.
"We've had people here staying on holiday, we've had businessmen who would then go into Manchester.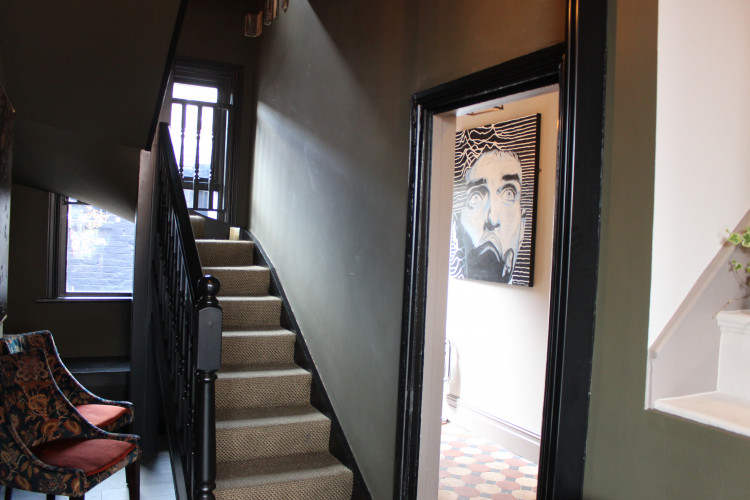 Artwork of music icons are inside such as David Bowie and of course, former Macclesfield resident Joy Division frontman Ian Curtis. (Image - Alexander Greensmith / Macclesfield Nub News)
"There's nearly 60,000 people in Macclesfield so it is definitely a big enough town to support something like this and all the small independents all over the place."
Open seven days a week, you can head into Suburban Green during weekdays from 8am to 10pm.
They are open until 11pm on Saturdays and 6pm on a Sunday.
You can follow the new Macclesfield eatery and bar on Facebook.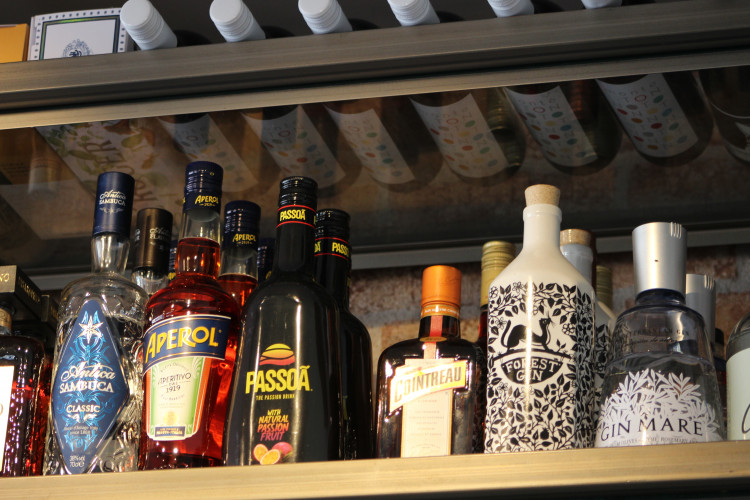 They also have their own-branded gin, which is made from Hawthorne berries and Cheshire honey. (Image - Alexander Greensmith / Macclesfield Nub News)
To book a table, please email [email protected] But you can also just walk-in.
You can view their food and drink menus on their website.
Suburban Green are leasing their premises from BOHOTEL.
BOHOTEL is a brand new independent hotel for Macclesfield, by Macclesfield.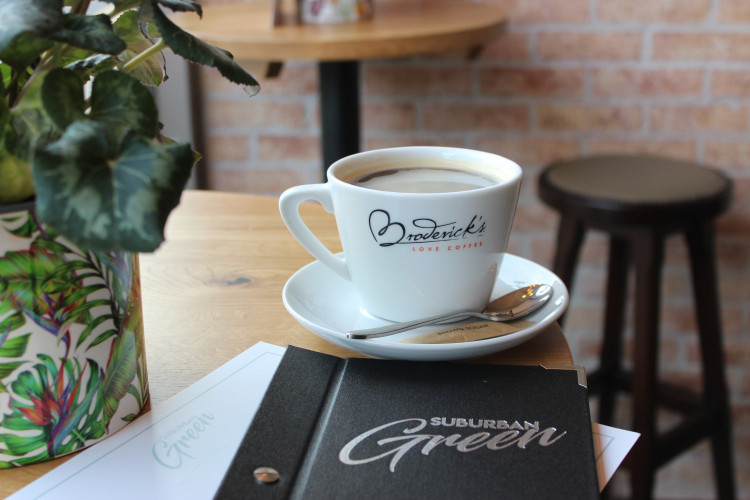 Whether you are here for a nata (Portugese tart) or a natter, Suburban Green hopes to become your go-to hangout in Macclesfield. (Image - Alexander Greensmith / Macclesfield Nub News)
If you are also interested in finding about BOHOTEL, please click here.
See Also: Macclesfield's 'hidden gem' Pachamama celebrates first birthday
Got a business you want to promote? Advertise it for FREE on our Macclesfield Local List.
Macclesfield: Have you signed up for our FREE Friday weekly newsletter? It contains each week's top five Macclesfield news stories, and one EXCLUSIVE article?
1400 of you have signed up already. Simply enter your email address on this link.
Free from pop-up ads, or unwanted surveys, Macclesfield Nub News is a quality online newspaper for Macclesfieldand the surrounding area.