Housebuilders in four-figure donation to Macclesfield's East Cheshire Hospice
A company who are building homes on Moss Lane have made a four-figure donation to East Cheshire Hospice.
---
---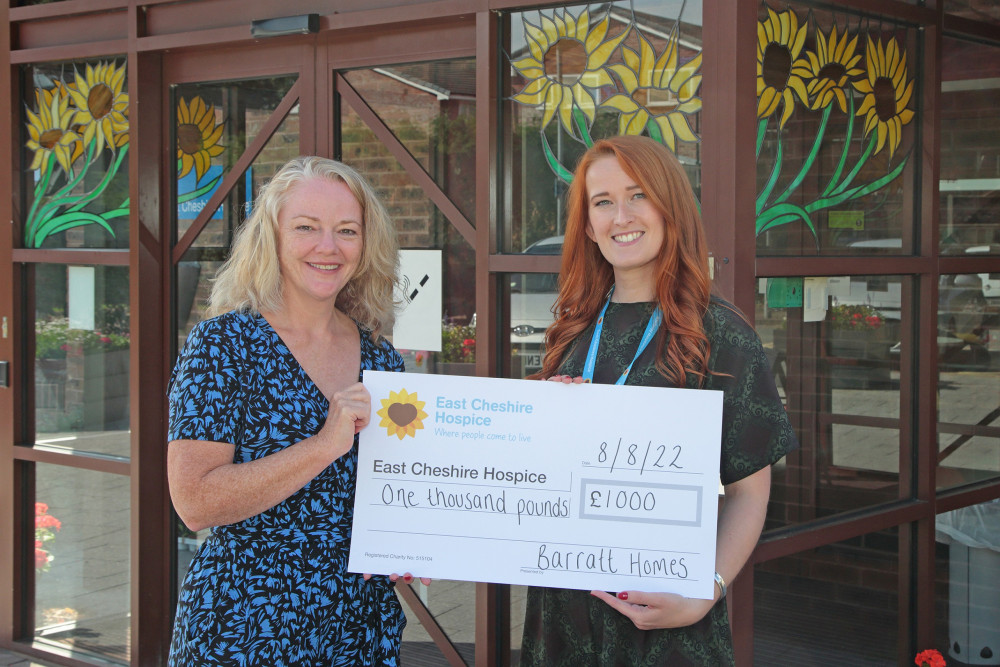 A grand gesture: Sarah Teagle and Elaine Caulfield outside of the Sunflower Centre at East Cheshire Hospice. (Image - Barratt Homes)
A company who are building homes on Moss Lane have made a four-figure donation to one of Macclesfield's most-beloved causes.
Barratt Homes has donated £1,000 to East Cheshire Hospice to support its new projects for the benefit of patients, carers and visiting families.
The contribution from the leading housebuilder was made as part of its 'Legacy scheme', and will go towards the Millbank Drive cause's upcoming initiatives.
Two projects in the pipeline are the charity's Dementia Carer Wellbeing Programme and the re-modelling of its Sunflower Centre.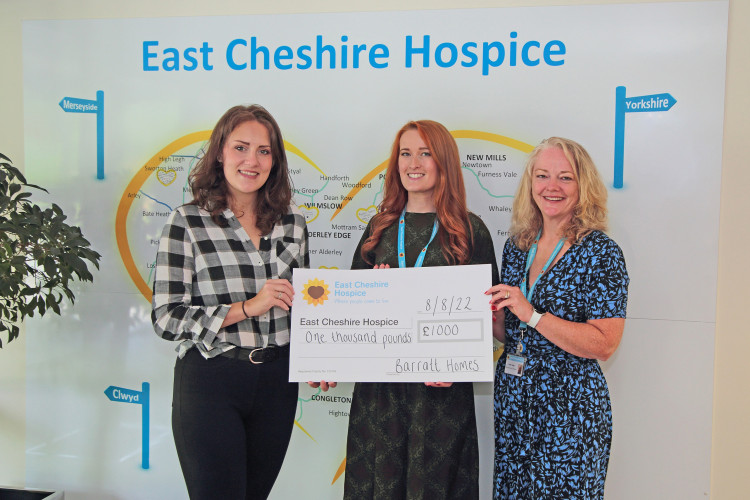 Lisa Ball, Elaine Caulfield (Barratt Homes) and Sarah Teagle at the cheque presentation for Macclesfield's East Cheshire Hospice.
Lisa Ball, Corporate Fundraiser at East Cheshire Hospice, said: "For more than 30 years, East Cheshire Hospice has provided quality, compassionate end-of-life care and support to tens of thousands of patients living with a life limiting illness as well as their loved ones. Today, we are one of our region's leading providers of expert, innovative palliative care.
"End-of-life care and the environment in which it is delivered has changed beyond all recognition. People are living longer with more complex, multiple illnesses and dementia is now the biggest cause of death in East Cheshire with all the complexities that brings.
"We have some exciting developments planned at the hospice, with a re-development of the Sunflower Centre due to begin in April 2023 to make it a more modern and user-friendly space for our patients and carers."
With dementia diagnosis rates predicted to increase by 40% from 2019 to 2024, East Cheshire Hospice is looking to expand its current Dementia Carer Wellbeing Programme to deliver the same internationally recognised service around the region.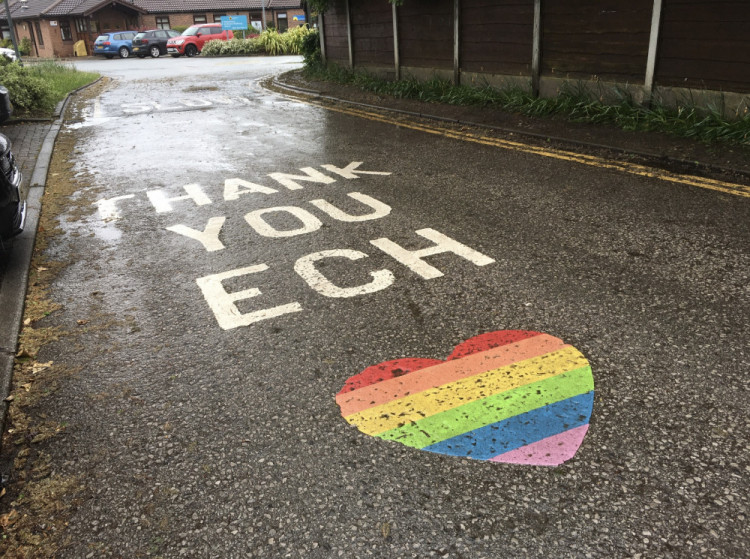 East Cheshire Hospice is located on Millbank Drive, Macclesfield SK10 3DR. (Image - Alexander Greensmith / Macclesfield Nub News)
Currently, the programme supports 192 people every year, but the hospice is striving to support an additional 240 patients and 240 carers each year.
The service provides a practical and supportive toolkit for the carer to help them cope with the progression of the disease, whilst wrapping them in a welcoming blanket and offering guidance and emotional support.
To expand the innovative scheme, just under £1 million is required to hire, train and fund the programme for five years.
Lisa added: "Without the support from our local community, we simply wouldn't be open. We are so appreciative of the support for East Cheshire Hospice, and donations such as this will allow us to develop our services to ensure more people in East Cheshire receive quality and compassionate end-of-life care."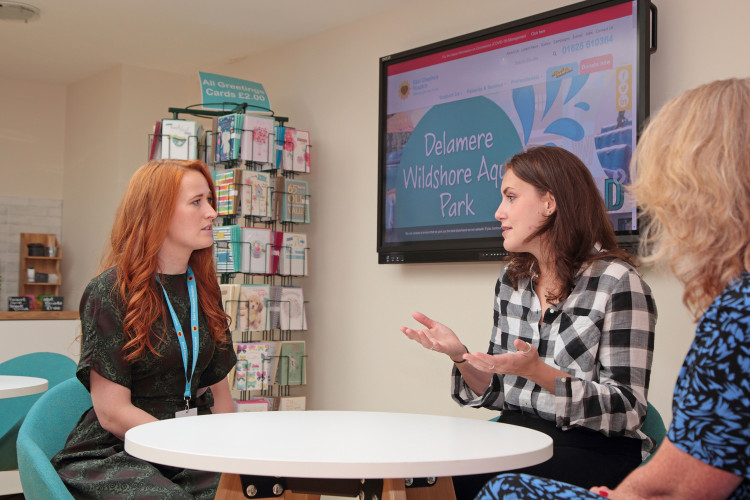 "The Hospice has been through some incredibly tough and challenging times over the past couple of years. Its amazing nurses have worked tirelessly throughout the pandemic and are working around the clock, within an ever-changing landscape, to maintain continuity of services."
East Cheshire Hospice is the second lowest NHS-funded hospice in the UK, receiving less than 13% of its running costs from the NHS. The 87% gap is filled from its fundraising and events to cover the costs of its services, which total £5.2 million a year.
It doesn't charge any of the patients and families for any care, support or treatments at the hospice, but relies on the support and generosity from the public to enable it to carry on running its hospice day-to-day.
Michaela Lancaster, Sales Director of Barratt Homes Manchester, said: "As a leading developer it's our responsibility to support the community in the areas in which we build."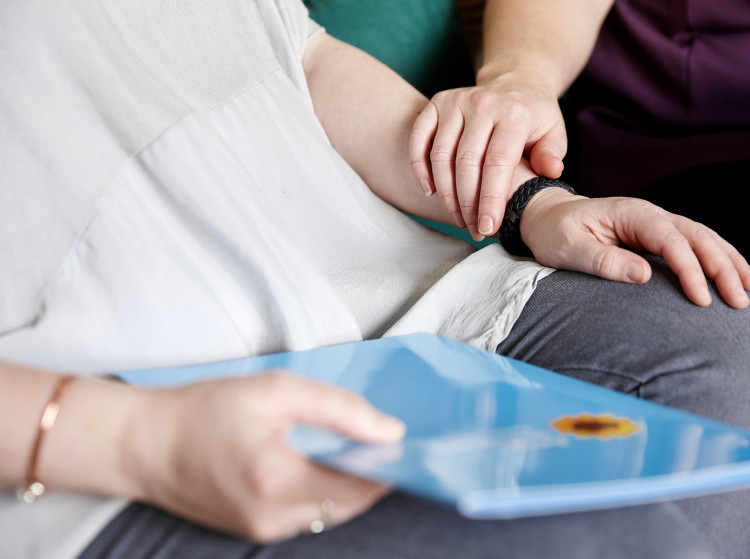 Since 1988, East Cheshire Hospice has been caring for people suffering from life-limiting illnesses. (Image - East Cheshire Hospice)
"East Cheshire Hospice is doing vital work in supporting patients across Cheshire, and we are happy to support the continuation of its excellent services. We wish the hospice the best of luck with its upcoming projects and, in difficult times like these, we're encouraging more people to support their local community where possible."
Barratt Homes are behind the Silk Waters Green development Moss Lane, which has over 147 homes. Over 50% of them are currently sold out.
Barratt Homes are a sister company to David Wilson Homes, who are building homes on the old King's School site in Macclesfield, for which, homes recently went on sale for.
See Also: Macclesfield property surveyor offers inclusive drone service and charity donation
Got a business to promote in Macclesfield? Advertise it for FREE on our Local List.
Macclesfield: Have you signed up for our FREE Friday weekly newsletter? It contains each week's top five Macclesfield news stories, and one EXCLUSIVE article?
1400 of you have signed up already. Simply enter your email address on this link.
Free from pop-up ads, or unwanted surveys, Macclesfield Nub News is a quality online newspaper for Macclesfield and the surrounding area.